5 Things I Learned About Running In Door County, Wisconsin
Our editor shares five tips she picked up while running on a recent trip to Door County, Wisconsin.
Heading out the door? Read this article on the new Outside+ app available now on iOS devices for members! Download the app.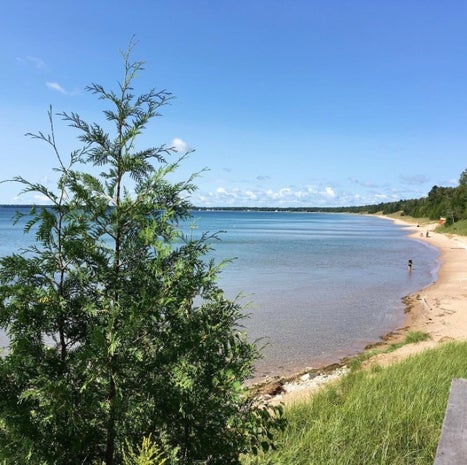 Running In Door County, Wisconsin
One of our editors, Meghan Roos, recently traveled to Door County, a small town in Wisconsin that's bordered by Green Bay and Lake Michigan. Here are five things she learned while running along trails that are open to bikers, hikers and runners alike.
It's not nearly as humid as you would expect in late August.
I didn't know what to expect, but there was very low humidity during the few days I was in town. This meant that the weather was super ideal for race training!
The hiking trails are beautiful.
Every trail I hiked had picturesque views of the water, which allowed me to share several pretty snaps on Instagram. Some trails, like those in Whitefish Dunes State Park, are runner-friendly and mostly flat. Others, like the Eagle Trail in Peninsula State Park, are covered in tree roots and loose stones that make them treacherous for runners. But whether the trails are used for running or hiking, one thing is guaranteed: it'll be a gorgeous trip.
You'll need to run a lot, because the local food is just too good.
In general, I try to eat healthy food, and I try to avoid eating too much. But while I was in Door County, I found it difficult to turn down the local eats. Since whitefish, cherries and cheese are all in abundance at Wisconsin restaurants, it seemed like there were platters and bowls full of these everywhere I turned. Not that I'm complaining–I'd quickly welcome another week of eating such treats–but having these around means that running regularly is necessary for staying trim.
There are cross-training opportunities everywhere in the summer.
I've already mentioned the hiking opportunities in Door County, but biking, swimming, kayaking and stand-up paddle boarding are big there, too. As we mentioned in our August issue, stand-up paddle boarding is a particularly excellent way to take a day off from running while still working your legs and core.
You can run on a beach, in a forest, through a field and within a neighborhood—all on the same outing.
Whitefish Dunes State Park is the best example of this. The visitor's center overlooks a slim beach along Sturgeon Bay, with soft sand and a sharp incline into the forest beside it. Throughout the park are trails with gentle slopes that weave through open grassy fields and forests packed with trees. The trails are open to bikers, pedestrians and leashed dogs–just keep your eyes peeled for porcupines that might cross your path!
Related:
7 Summer Destinations For Any Kind Of Fancy
Kauai Is The Ultimate Vacation For Runners