Runner Moms Race For A Very Special Preschool
One group of moms race and fundraise for their health—and the health of children.
Heading out the door? Read this article on the new Outside+ app available now on iOS devices for members! Download the app.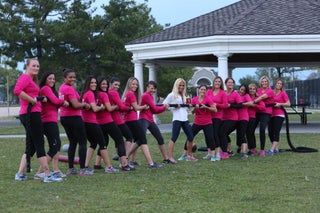 "Why am I doing this?" Danielle Taylor asked herself while catapulting over a 10-foot wall during an obstacle race. Why is a common question all competitors ask themselves while pushing their bodies to the limit in hopes of hitting a personal record (PR). Running toward the finish line, Danielle knew her next race needed to have meaning and purpose. While recovering at home, she found the answer she was looking for while watching the evening news. Her next race would be run in support of a local charity; a not-for-profit school called The Morgan Center. Danielle recruited her best friend Jeannine to join and just like that, Team YOLO was formed.
Team YOLO—You Only Live Once—is a group of 20 Long Island moms who race to raise money for The Morgan Center. Located in Hicksville, N.Y., The Morgan Center is the only preschool in the United States for children undergoing chemotherapy treatments. Children with cancer have suppressed immune systems due to their lowered white blood cell count from chemotherapy. For this reason, if they were to attend a typical preschool they could risk exposure to life threatening infections, illnesses and childhood diseases. The Morgan Center enables these children to excel in a school-like environment specifically created for their protection.
For 2015, Team YOLO expanded to 20-plus mothers and enlisted the support of local fitness guru Debra Milano-Granito of DMG Fitness. Debra's unique approach as a Certified USA Track and Field Coach was a perfect fit. Adding strength and conditioning training is sure to give these ladies a true edge over previous years.
Team YOLO recently raced on October 4, at the Merrell Down and Dirty. Training for this 6-mile obstacle course had Team YOLO running miles up and down hills with sandbells, flipping tires, swinging weighted hammers, exercising with weighted ropes and sleds. "Only days away from the race and deadline of hitting their $10,000 goal, these 20 moms were not only stronger and fitter but more passionate and dedicated to their cause." said Milano-Granito.
Team YOLO is ready to keep racing for the children of The Morgan Center!