The Rising Trend Of Solo Active Travel
Solo female travel is a big trend—and a real adventure.
Heading out the door? Read this article on the new Outside+ app available now on iOS devices for members! Download the app.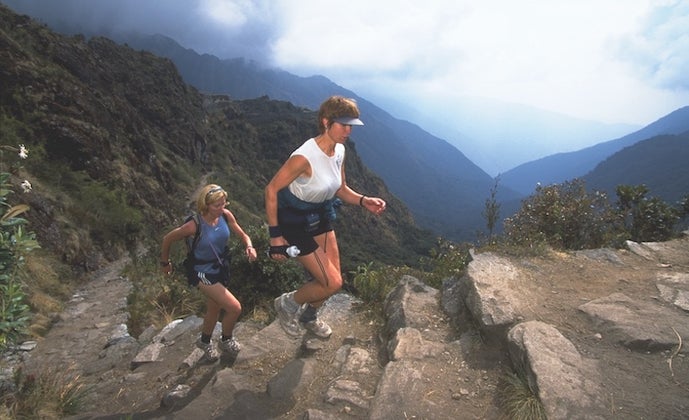 Flying Solo
It was a documentary on trail running that first inspired Kate Brun's wanderlust. Specifically, a documentary on trail running the W Circuit, a 75-mile route through Torres del Paine National Park in Chilean Patagonia that weaves through granite towers and some of the most stunning scenery on the planet.
"I immediately knew this was something I had to add to my bucket list," Brun says. She began following several adventure tour companies around the world, and when one announced a nine-day trail-running tour in Chile, she didn't hesitate to click the "register" button.
"I knew I had to sign up," Brun says. "And it was the best decision ever. From chasing whales in the Strait of Magellan to glacier trekking on Grey Glacier and running amazing trails in Torres del Paine, every day was an epic adventure."
Brun is part of a rapidly growing trend in travel: women who fly solo on active adventures. Nearly two-thirds of travelers today are women, reports the George Washington University School of Business, and many set out to new destinations on their own. According to the Travel Industry Association, an estimated 32 million single women travel at least once per year, with a third of those women traveling five times or more.
No, not just traveling—adventuring. The typical itinerary for those flying solo is more likely to be packed with exotic locations and tons of endorphins. Since 2010, the travel market has exploded with tour companies that cater to adventurous women like Brun.
"The vast majority of our runners come solo, and the majority of those solo runners are female," says Allison Macsas, co-founder of Rogue Expeditions, which organizes running tours around the world. "A lot of people assume that everyone else is signing up with a friend or partner, but that couldn't be further from the truth."
Most women set out on their own simply because they can—women are more financially independent than ever, and travel is the most affordable it's ever been. Why not go do something amazing?
Which leads to the second reason women travel solo: The definition of "amazing" varies from person to person. It can be tough to find someone to join in on those adventures. If your significant other is more into Netflix marathons than actual marathons, then a five-day trail-running adventure will be miserable for the both of you.
"Let's be honest—the pool of people who are crazy enough to spend their vacation going running every day is pretty small in the grand scheme of things," Macsas says. "Those who are drawn to running and adventure trips tend to be more daring and adaptable than the average person, and I've found that the idea of traveling alone is rarely intimidating enough to keep them home."
It can also be addictive. Since Brun's trip to Patagonia, she's traveled solo to run around California's Lake Tahoe, through the stunning landscape of Morocco and on the Wonderland Trail circling Seattle's Mount Rainier.
"I don't feel like I am missing out on anything by going solo," Brun says. "It gives me the opportunity to really focus on the experience and culture and meet like-minded strangers who quickly become friends."
Picking The Tour Group That's Right For You
"Going alone" doesn't have to mean "doing it alone." Organizing your trip through a tour group allows for you to focus on the experience instead of worrying about logistics. It also allows you to connect with like-minded people. Macsas' tips for choosing the right tour group:
Be specific in your travel goals. "Whether it's running or cycling or photography, make sure that the tour is built around an activity that gets you excited—a common core interest almost always ensures that you'll connect with others in the group."
Ask if the itinerary includes some unscheduled or free time. Most groups catering to solitary travelers facilitate social connections but still allow for plenty of "me time" excursions.
Find out who's in. Where do the other travelers come from? A multinational group can be a fun and rewarding experience, but you want to make sure that you'll at least share a common language with the other travelers.
Read the fine print. When it comes to accommodation, some companies will place you with a roommate, some will allow you to pay a bit extra for your own room, and others will automatically upcharge you for being solo. Macsas also recommends asking about transportation ("Will someone be there to meet you at the airport, or do you have to find your own transportation to a hotel or meeting spot?") and dining ("Are all of the meals provided, or will you need to go search out your own dinners?").
Do some prep work. "Taking the time to familiarize yourself with a culture and doing your best to respect it will nearly always result in positive encounters and experiences."
Running Tours Worth Investigating
Rogue Expeditions
Unforgettable running adventures in breathtaking locations, including Kenya, Slovenia and Morocco.
Amazing Running Tours
This group by runners, for runners, takes care of everything from the carbo-load dinner before your marathon to a week of sightseeing after the race.
Running Treks Adventure Travel
Merge culture and cardio with a running tour through Italy, Spain or Portugal.
Andes Adventures
While you're running the Inca Trail to Machu Picchu, tour guides will work ahead to set up your camp and cook a delicious dinner upon your arrival.
Related:
Travel And Running Advice From A Southwest Flight Attendant
Sneak Peek: Our June 2018 Travel Issue