Rahaf Khatib Is Running The Boston Marathon And Raising Money For Syrian Refugees
She's hit more than $16,000, way above her goal!
Heading out the door? Read this article on the new Outside+ app available now on iOS devices for members! Download the app.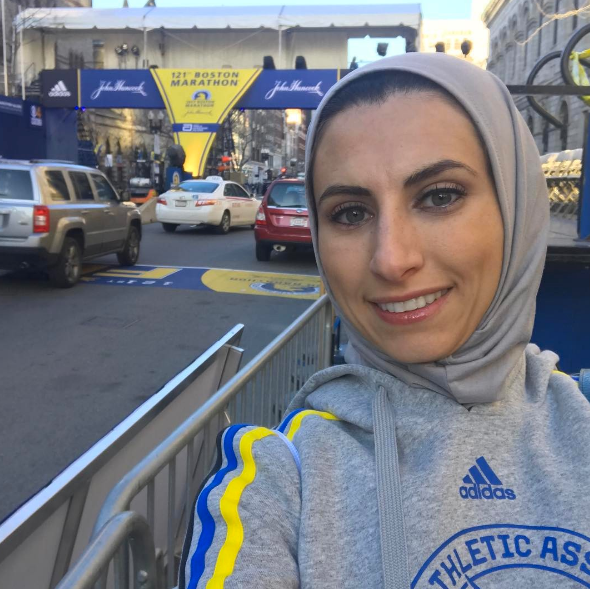 You may remember her name from our October 2016 cover. Daughter of two Syrian immigrants and avid runner, Rahaf Khatib is one of 30,000 runners making the journey from Hopkinton to Boston this year, and she's raising money for the Syrian American Rescue Network (SARN).
"It was created by a lot of my friends who live in Michigan. They are amazing people, a lot of them are immigrants themselves. My parents are immigrants, I was born in Syria and raised in Michigan my whole life. In a way, I feel for them. It's a deep, personal feeling," explains Khatib. Michigan is the second largest state to receive refugees.
For Khatib, the opportunity to give back as part of her Boston Marathon experience was non-negotiable, and supporting Syrian refugee relief specifically is a deeply personal cause to her and her family.
"Ever since the crisis in Syria, we've had an influx of refugees come into the United States. It's a concern of my community; they live right in my backyard. Some are in hotel rooms waiting to get an apartment. Some of them are sleeping on the floor in their apartment because they don't have beds," Khatib says. "They don't have transportation. My mom has been helping out, driving pregnant women to doctor appointments. They just need help in every single direction of their life. Some of them are biking to work in winter because they don't have cars."
Khatib will be running as part of the Hyland's, a sponsor of the marathon, all-women's team, assembled to honor the 50th anniversary of Kathrine Switzer's 1967 Boston Marathon. The company reached out to Khatib and said they wanted to sponsor her Boston Marathon pursuit. Since she missed the cutoff to get SARN to be an official charity for the marathon, she viewed the invitation "as a sign from God" that she needed to still pursue fundraising for SARN.
"I went ahead and accepted, but I said I only would do it if I could fundraise," she says.
Thinking a $5,000 goal was lofty already, she was blown away after hitting her mark within a week. "Then it went up to $8,000, then $10,000, then $12,000. And then $16,000 is where it ended." Her fundraising efforts focused on such a current event issue have garnered national media attention, especially in recent weeks. "This is to raise awareness to be good to our guests. These refugees are guests to our country."
Although the outpouring of support has been phenomenal—from being the first hijabi runner to be on a cover to now making headlines ahead of Boston—Khatib's accomplishments aren't free of critics. There was major backlash on social media in response to the cover, as well as backlash against fundraising for refugees versus supporting other causes.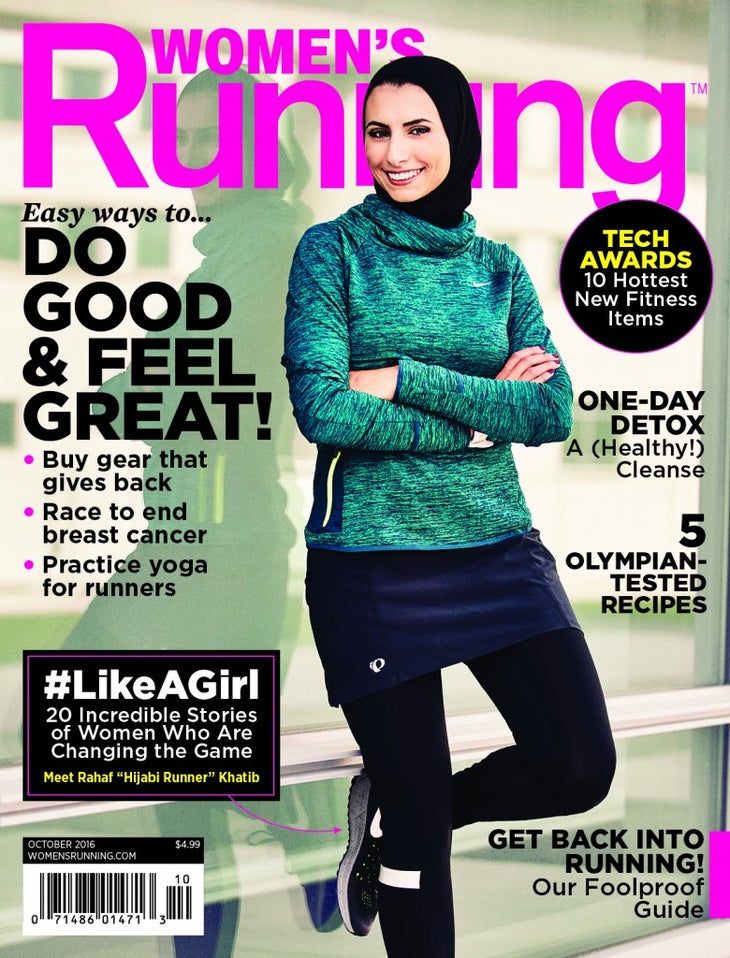 "I support everyone in this country, and no one wants protection in this country more than I do and my community does. The messages I've been getting from people all around the world is amazing. That speaks volumes. I've been getting messages from London, Australia, Africa—hijabi women in Africa saw my cover and have been reaching out to me. Just having those messages completely deletes the negative, you know?"
This will be Rahaf's first Boston Marathon and her third World Marathon Major. She's previously completed the Berlin and Chicago Marathons, and she plans on completing all six marathons in the majors series.