The Power Of Getting Out Of Your Comfort Zone
When the time comes to do something that is totally out of your comfort zone, do it.
Heading out the door? Read this article on the new Outside+ app available now on iOS devices for members! Download the app.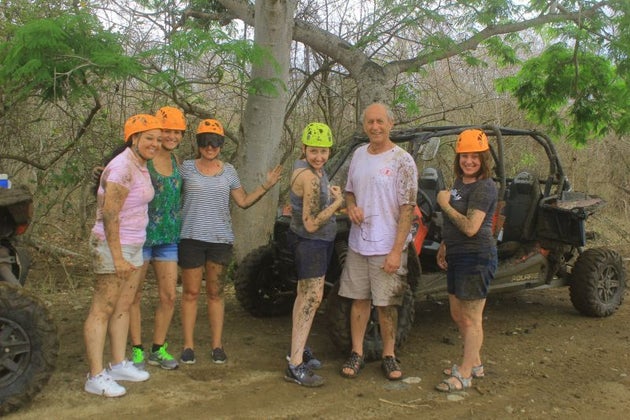 This past weekend I had the opportunity to head to Mexico for an adventure and stay at The Royal Suites Punta de Mita by Palladium. My first time headed to an all-inclusive resort, I knew that I was going to have the opportunity to try some new things. I had some anxiety around the trip, but was ready for a weekend of fun. That was, until, upon meeting our catamaran guide, I heard the words, "I can't guarantee we won't flip over in those waves."
Immediately my thoughts went to the movie Castaway—I pictured myself bobbing away like Wilson—and told the group I was going to sit it out. I watched them all suit up in life jackets and I found myself thinking, When am I ever going to get to do this again? I hesitated for a moment and found myself saying I would go, as well. After all, I was going to be wearing a life jacket, so odds are I would be okay.
We made it out into the water pretty flawlessly, and our guide—who actually said his nickname was Castaway—took us on a great sail through the Bay of Banderas. As we headed back to shore, he worked to time the waves just right to get us back without too much fuss. We did end up getting slammed by a wave, but luckily we saw it coming and were able to brace ourselves. We got off the catamaran and the worst thing that happened was I seemed to be dropping seaweed for a few minutes out of my life jacket and swimsuit.
The next day we headed toward Sayulita for a buggy tour. It had rained the night before and we were warned that as we rode through the jungle we were going to get a bit muddy. I usually am not one to enjoy getting dirty—I must admit when I first started running in 2009, I used to put full makeup on before every run—but I was ready to see the sights.
From the first huge clump of mud that rained from the sky to the very last, I found myself smiling and laughing. With every clump of mud that would land on my arm or legs or helmet or hands, I laughed almost uncontrollably. Who knew I would enjoy getting covered in mud? I found myself yelling, "More mud!" as we came up to puddles and I was sad when our ride was over. We ended it with a dip in the Pacific Ocean in the town of Sayulita, where we got to wash the mud off before heading to a lunch of what possibly may be the best fish tacos, ever.
Looking back at the trip, I find myself wondering why I ever had any anxiety in the first place. While there I kept thinking, my husband is not going to believe I did this, and I wondered, how much do I miss out on because I am afraid? What chances don't I take because I am worried?
In life—and in running—it is easy to get caught up in the daily worries about whether we are making the right choices or following the right training schedule or doing everything we can to reach our goals. All that worry does, however, is distract you from the present, from what is happening at that very moment.
Next time you find yourself worrying about the what-ifs and wondering if you should take the easy route or the uncomfortable route—take the one that gets you out of your comfort zone. Try that obstacle race with your friends. Pull the trigger and sign up for that marathon you've been considering. Because, when it's all over, the odds are you will have a huge smile on your face—and be ready to do it all over again.