A 1960s Rock Playlist To Keep You Running Through Time
It's hard to pick just 10 tracks from the 1960s rock era–but even so, each of these songs is worth adding to your workout mix.
Heading out the door? Read this article on the new Outside+ app available now on iOS devices for members! Download the app.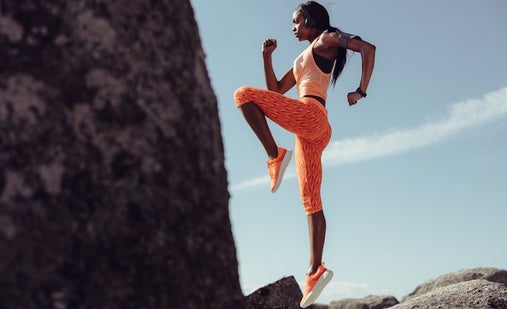 Revisiting The Classics
Rock fans generally trace this genre's origin to the 1950s, pointing out seminal records from Ike Turner, Chuck Berry and Bo Diddley. Many folks also mark its crossover into the mainstream with Bill Haley's "Rock Around the Clock," to which the folks at the Guinness Book of World Records attribute 25 million copies sold. However, these early hits gave way to rockabilly ones—from Elvis, Johnny Cash and Jerry Lee Lewis—before evolving into the sounds generally associated with rock bands in the last half of the 20th century. Given that this transition occurred largely in the '60s, we've rounded up 10 uptempo highlights from that decade that continue to endure more than 50 years later.
The list warms up with Jimi Hendrix covering Bob Dylan and winds down with one of Steppenwolf's signature hits. In between, you'll find mementos of the British Invasion from The Beatles and The Rolling Stones as well as stateside counterparts from The Beach Boys and Paul Revere & the Raiders. Elsewhere, you'll find acts mining distinct musical veins—like Creedence Clearwater Revival's bayou sound (which is more peculiar given that they hailed from San Francisco) and a monster jam from Stevie Wonder (who committed the track to tape at age 15).
If you've spent any time listening to rock radio over the years, you'll likely be familiar with everything on the list below. But this omnipresence is a virtue, as it's tough enough for a song to enter the public imagination in the first place. It takes a special song to linger there for decades. To that end, if you're heading out for a run, these tracks have abundant stamina on which you can rely.
The Jimi Hendrix Experience – All Along the Watchtower – 118 BPM
The Beach Boys – Wouldn't It Be Nice – 126 BPM
Paul Revere & The Raiders – Kicks – 132 BPM
The Rolling Stones – (I Can't Get No) Satisfaction – 136 BPM
Creedence Clearwater Revival – Fortunate Son – 134 BPM
Tommy James & The Shondells – I Think We're Alone Now – 131 BPM
Stevie Wonder – Uptight (Everything's Alright) – 137 BPM
The Beatles – Twist and Shout – 129 BPM
The Grass Roots – Midnight Confessions – 135 BPM
Steppenwolf – Magic Carpet Ride – 111 BPM
To find more workout songs, folks can check out the free database at Run Hundred. Visitors can browse song selections there by genre, tempo and era to find the music that best fits their particular workout routines.
Related:
The Top 10 Workout Songs For March 2018
10 Warm-Up Songs That Build Momentum As They Go