Molly Seidel Proves Performance and Fun Can Coincide
If anyone had lingering questions about whether good vibes and fast times go hand in hand, Seidel dispatched them.
Heading out the door? Read this article on the new Outside+ app available now on iOS devices for members! Download the app.
Molly Seidel flew to the Olympics in Japan last summer with a degree of self-doubt. True, she'd run so well in her 26.2-mile debut she earned a spot on Team USA. Eight months later, she ran more than two minutes faster to place sixth at the London Marathon.
Still, she felt like "a little bit of a mess-up, still figuring it out." Did she truly belong there? Could she compete at that level?
But alongside her imposter syndrome, she packed googly eyes, which she and her coach, Jon Green, stuck to doors and other hotel fixtures. Keeping the mood light has been key to her success, she says. Jokes remind her that even on the hardest days, she has a chance to do what she loves.
With positivity powering her, she proved herself on the world stage: persevering on a hard, hot day in the streets of Sapporo to win a bronze medal in the Olympic Marathon.
On the plane home, the hardware heavy in her pocket, Seidel contemplated the heft of what she'd done. "When I saw Deena Kastor win bronze in 2004, it was truthfully such a seminal moment in my life, really inspiring me to become a runner and want to do the marathon," she says. "I hope there's somebody out there that watching this happen will inspire them to do something great."
She's secured her status as a marathon superstar, and membership to a select sisterhood that includes Kastor and 1984 Olympic marathon gold medalist Joan Benoit Samuelson. The shift to role-model status has felt strange, but Seidel indeed hears regularly from fans who've adopted her trademark "full send" approach.
She and Green first started using the phrase, derived from an internet-famous snowmobiler, in her buildup to the U.S. Olympic Marathon Trials. Running her first marathon there was, in her words, "a ridiculous idea." But the lack of expectations proved liberating—and her aggressive racing style, triumphant.
"Our whole attitude was, hold nothing back, go for it and just see where you come out," she says. "It's been fun to see people in various spheres take that whole idea of, I'm just gonna throw all my expectations out the window and go for something."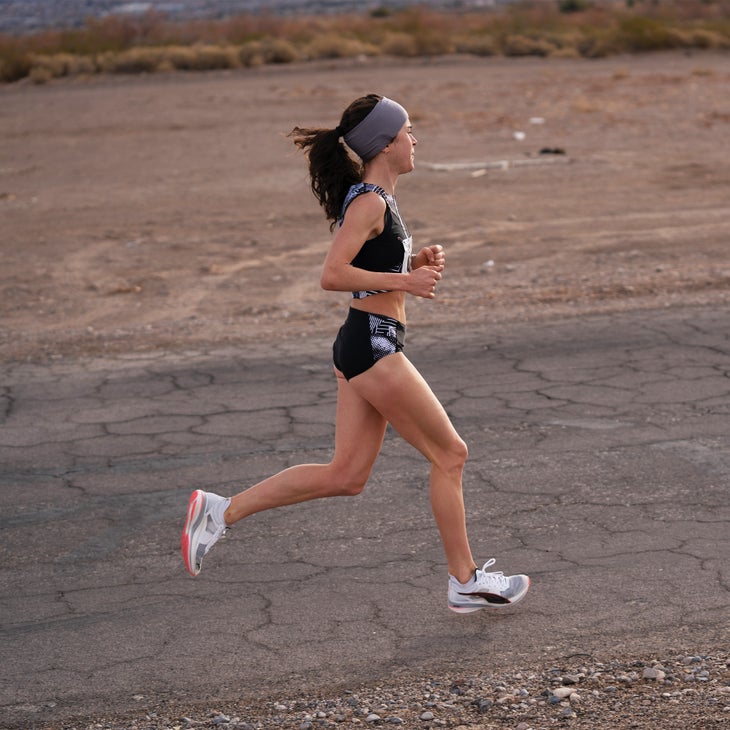 Winning does come with a new set of pressures, something Samuelson discussed openly with her. The responsibility of inspiring a nation isn't one Seidel takes lightly. Still, she's determined to continue infusing it with fun and authenticity.
She's always up for a goofy or unusual challenge, be it the slowest mile possible or a Turkey Trot in costume, especially for a good cause. The weekend after the Olympics, she started at the back of the pack of the Falmouth Road Race in Massachusetts. For each runner she passed, race organizers donated $1 to Tommy's Place, a children's cancer organization. By the end, with matching donations, she raised nearly $40,000.
"I hope people are able to see hey, even an Olympic medalist is having fun with this. I can too," she says. Taking the sport too seriously in college nearly ruined it for her, negatively impacting her mental and physical health. Now, she hopes to show how staying in touch with her silly side leads to sustainable success.
If anyone had lingering questions about whether good vibes and fast times go hand in hand, Seidel dispatched them at the New York City Marathon last November. There, she placed fourth and first American in a course-record, personal best 2:24:42. Afterward, she talked about the ups and downs of her training and the race, but also her plans for a victory celebration. "Oh my God, I hope there's a beer waiting for me at the hotel," she said.
This year, Seidel has her sights firmly set on the marathon at the World Athletics Championships in Eugene, Oregon, on July 18. It's a date she's had circled on the calendar for years—the chance to compete for a world title, on home soil. "There's just something categorically different when you line up in a Team USA singlet and race for the country," she says.
At 27, she likely still has years of competitive running in front of her, but she's also thinking ahead. Alongside her training, she's earning her MBA. "I realize I can't run forever," she says, and the degree will set her up to continue working to help athletes afterward.
One big, serious issue she wants to help solve: the enormous gap from running collegiately to making a living as a pro runner. "It's really difficult, and a lot of people fall through the cracks," she says. She's already serving on councils in the sport's governing body, USA Track & Field. With Olympic medalist next to her name, it's a little easier to get her voice heard.
Even after such an epic year, Seidel still struggles with self-confidence. In those moments, she reminds herself of the lessons she hopes to share—racing hard is a joy, setbacks aren't failures, and even pro athletes can relax with a cold one. "At the end of the day, I am living my dream," she says. "And I feel strongly about finding a way to keep impacting the sport in a positive way."
---
This profile was first published in the Winter 2022 print issue of Women's Running as part of "Women Who Lead: Power Women of 2022" which celebrates 15 women who are reshaping the running industry for the better. You can see the full list of honorees here.