What To Watch For At The NYC Marathon Tomorrow
In anticipation of tomorrow's 2017 TCS NYC Marathon, Team WR highlights the competitors to keep an eye on once the race begins.
Heading out the door? Read this article on the new Outside+ app available now on iOS devices for members! Download the app.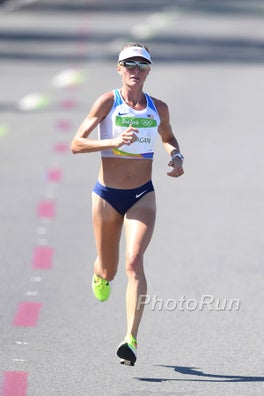 The 2017 TCS NYC Marathon takes place tomorrow, November 5, 2017. As we look forward to covering the race on the ground in New York City, there are several things we're going to be watching closely. The following details the professional athletes we recommend looking out for as you watch the race from the sidelines in NYC or from the comfort of your own home. Don't forget to check back in with Team WR on Sunday for race updates and official recaps once the marathon's over.
Meb's Last Race
One of America's favorite marathoners Meb Keflezighi will run his 26th and final marathon in New York City–the same course on which he ran his marathon debut 15 years ago. Meb's been planning his retirement from competitive racing for most of this year, and the running community at large is sorry to see him leave the professional ranks. "It's very emotional coming back," he said last month. "I'm so excited–but at the same time, it's bittersweet." Watch a video tribute to Keflezighi's professional running career here.
Shalane Flanagan And Mary Jepkosgei Keitany
Three-time NYC Marathon champion Mary Jepkosgei Keitany returns on Sunday with another victory in sight–though American professional marathoner Shalane Flanagan is poised to fight her for it. Labeled "Determined AF" as part of her participation in adidas' "Fearless AF" video campaign geared toward NYC Marathon women, Keitany remains one of the strongest contenders within the professional women's field. But she will have to ward off the efforts of Flanagan, who is the second fastest female marathoner in the U.S. and the fastest American marathoner in Sunday's professional women's field. Though Flanagan hasn't run a marathon since the 2016 Rio Olympics–in part due to a lower back injury suffered earlier this year–she was the runner-up in the 2010 NYC Marathon and plans to secure her gold this weekend.
Of her 2010 NYC Marathon run, Flanagan said, "That race confirmed to me that I could become a great marathoner. That race proved to me that that's where the next seven years of my life would be dedicated. It's an honor to be back, facing some of the same tough competition."
Kathrine Switzer's Return
For the first time since she placed first for women in 1974, Switzer will return to the NYC Marathon on Sunday, leading her 261 Fearless team to the finish line. "All of these women will be carrying the torch forward," Switzer said during a panel on Friday, November 3. "The women's running movement is a social movement."
The Stephanie Bruce And Kellyn Taylor Tag-Team
These two Northern Arizona Elite teammates trained together for NYC throughout the summer and into the fall. It's the first NYC Marathon for both women, and they're equally determined to make it a great run. "I've always been a competitive person," said Taylor, who hopes to finish within the top 10. "I like to push myself to see how good, how fast I can go."
"I really just want to have one of the best marathons of my career, to have a strong showing of all the work we've been putting in this fall," Bruce said during an interview a couple of weeks before race weekend. "I hope to be near the front of the race during the later stages."
Tatyana McFadden Defending Her Title
McFadden has five wheelchair division titles on the NYC course, the last four of which were earned in each of the last four years. It wouldn't seem like too much of a leap to assume McFadden would dominate the course again this year–except she herself cast doubts about her likelihood of winning the gold. After a year of health issues–including a blood clot diagnosis in February–that resulted in training disruptions, McFadden decided to drop out of the London Marathon during the spring but is approaching the NYC Marathon healthy and determined. As for a podium finish, McFadden simply said, "We'll see. It'll be pretty tough."
Related:
Stephanie Bruce Discusses Goals For Her First NYC Marathon
Kellyn Taylor Aiming For A Top 10 Finish At The 2017 TCS NYC Marathon