Why A Muslim Runner's Cover Makes Me Proud To Be An American
"I couldn't wait to show it to my daughter, to let her see a positive image of an American woman, who also just happens be be Muslim."
Heading out the door? Read this article on the new Outside+ app available now on iOS devices for members! Download the app.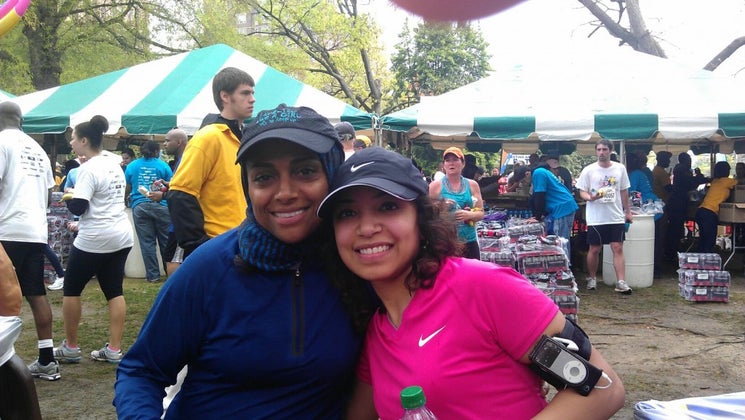 I am a typical American. I am a second-generation American woman. I'm one of more than three million people born in the United States who consider themselves a practicing Muslim. Lately, the negative political rhetoric against immigrants and Muslims seems to have increased significantly. The impact can be felt across the country with sharp increase in incidents of hate crimes and bullying in schools. Whether it is on social media or from news outlets, the cruel words are hard to get away from.
When I saw Rahaf Khatib, an American Muslim woman, on the front of Woman's Running magazine, l literally jumped up out of my seat and screamed a 'woohoo' out of excitement. The next minute, I was sharing the link on Facebook. I fell in love with her handle #runlikeahijabi and followed her on Instagram. I couldn't wait to grab the magazine and show it to my daughter, to let her see a positive image of an American woman, who also just happens to be Muslim. Women's Running featuring Khatib breaks the cycle of negativity. It also breaks away from the myth that in order to be accepted, you should look like everyone else.
Covering does not limit my ability to run or participate in any other sport for that matter. Covering does mean that I put quite a bit of effort into my running gear, which can be challenging sometimes. So naturally, I had to check out Khatib's outfit. The cover page of most women's sports magazines do not highlight what I would usually wear outside. I'm always looking for long sleeve shirts and track pants. I do not like the tight clingy material of certain fabrics. Over the years, I have developed my own preferences to brands and types of running outfits that work for me. I have tried various sports hijabs, bandanas and other head gear that cover, but also help with wicking moisture away. I believe I have covered running gear down to a science!
Although I am not as avid of a runner as Khatib (a many-time marathoner), I have been running since 2010. My first run was an 8K, and since I cover like Khatib, I felt alone in a sea of racers. It was so incredibly refreshing to see Khatib honored on Women's Running for many reasons. It renewed my confidence in the American spirit of freedom and liberty. Thomas Jefferson said, "I never will, by any word or act, bow to the shrine of intolerance, or admit a right of inquiry into the religious opinions of others."
This is my America. This is why I am proud to call myself an American. The values that this country was founded on, the struggles that many before us have endured, have meaning. Seeing the cover encapsulated all that and more.
Running races captures the same feeling for me. No matter who you are, whether you are running a 5K, 10K or marathon, the crowd cheers for you always. They don't judge you on your attire or how fast your are running, they just applaud your effort. And I'm a sucker for random people cheering for me! So thank you, Women's Running, for revitalizing my hope in America and for cheering us, all women, on our running journey.