What The Oldest Team USA Runners Can Teach You About Running
First Meb Keflezighi made the 2016 Olympic team, then Bernard Lagat followed on the track—and they are both really old in the world of run.
Heading out the door? Read this article on the new Outside+ app available now on iOS devices for members! Download the app.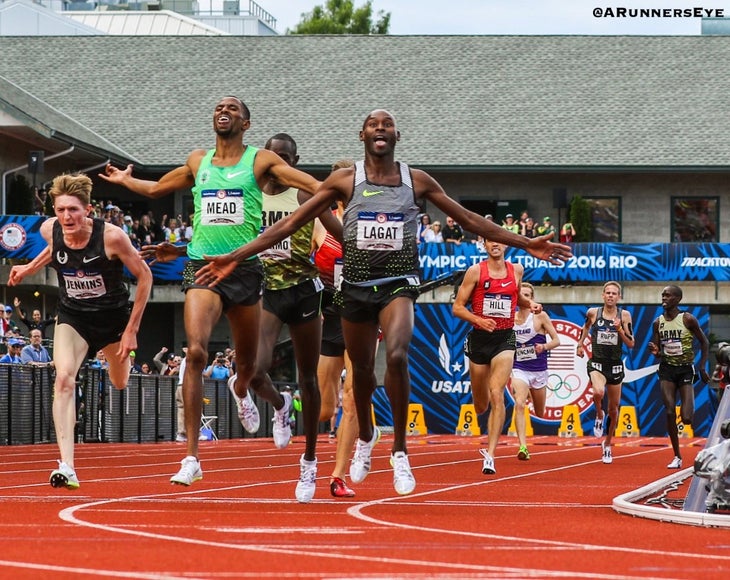 By Olympic running standards, "old" is anyone over the age of 30. At age 40 runners are considered "masters," which is really just a polite way of saying, "You're old and now have your own category since you cannot be expected to compete against the 30-year-olds." So how is it that two 41-year-old runners—Meb Keflezighi and Bernard Lagat—are part of the U.S. Olympic team, and why should you care?
Because you are becoming an older runner everyday.
Because you want to get more race bling as you age up.
Because master elites hold the "secrets" to a lifetime of running.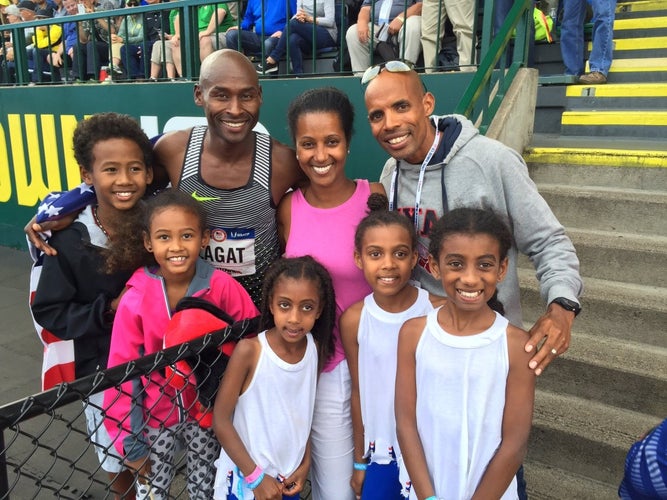 Both Lagat and Keflezighi keep defying the odds, changing the sport for over-40 runners and crushing guys literally half their age. In fact, at the 5,000-meter Olympic qualifying race, Lagat beat out 24-, 25- and 26-year-old runners to win it all and head to his fifth games.
Here's a peek into their mindset and how they are able to compete at such a high level for all these years…and how you can apply it to your own workouts:
Training with younger dudes
"I train with young guys…They push me every single day and at the end of the day, they tell me, 'Man you make us really feel bad.' Because I don't give up." —Bernard Lagat, Sports Illustrated
How they do it: Lagat and Keflezighi consistently train with younger guys. It's pretty hard not to when you're a 41-year-old elite, but they keep pushing themselves with competitors half their age. And not only are they keeping up, but they're also leading the pack.
How you can too: Although intimidating, do at least two workouts a month with a faster friend and let her push the pace. You can also plan track workouts with a friend (or group) where you each do your own workout and go at your own pace. By lapping each other and just being on the same oval, you will encourage each other to work harder.
Stretching
"The most common mistake is people don't stretch…it's all the small things that make the biggest difference." —Meb Keflezighi, ESPN
How they do it: Keflezighi in particular is known for his cross-training (ElliptiGO, anyone?) and being diligent about stretching, foam rolling and staying injury free. He knows that all these "little things" turn into big things once you reach a certain age.
How you can too: Pay attention to the little things starting now! Stretch, foam roll and find a way to cross-train that interests you. Most runners know that lifting weights can only enhance race performance and stave off injury, so find a class, pick up some weights and get on it.
Avoiding the thought of 'being old'
"I don't believe I'm old, because if you think you're old, I'm gonna run like an old man!" —Bernard Lagat, after winning the 5000 meters at the Olympic Trials
How they do it: Obviously both men are on top of their mental game and only tell themselves truths that will increase performance and enhance their training.
How you can too: There are tons of books, podcasts and articles written by and for athletes on the subject of mental toughness and how to train your brain for success. Fill your mind with positive mantras and use them during hard training runs and races.
And because runners do not have exclusive rights to aging athleticism, here are some other Olympic masters getting it done this year:
Jo Pavey, 42-year-old British track runner
Oksana Chusovitina, 41-year-old Uzbekistan gymnast
Anthony Ervin, 35-year-old USA swimmer and oldest to qualify for an individual event since 1904
How long do you want to run? The choice is yours.