She Lost 105 Pounds, Signed Up For A Half, Then A Full Marathon
After being diagnosed with high blood pressure, Latoria started with walking, which led to running, which led to a full marathon this month.
Heading out the door? Read this article on the new Outside+ app available now on iOS devices for members! Download the app.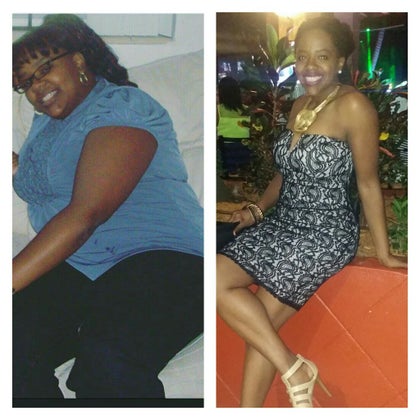 When I was just 26 years old, I was diagnosed with high blood pressure and was prescribed medication to help lower it. A year had passed and I did nothing but take the pills, accepting the fact that I would be taking them for the rest of my life. One day it hit me that I really needed to take better care of myself, not only for health reasons but for my family as well (I am a wife and mother of two beautiful kids, now ages 9 and 7). I started making small changes to my diet and dedicated 30 minutes a day for walking—it was a challenge while weighing 266 pounds.
A friend of mine suggested that I sign up for a 5K so I could have something to help me stay motivated. My initial thought was, I can't do it! Well, I did it anyway. Slowly but surely I actually fell in love with running and found myself signing up for every 5K that I could. I was hooked! I promised myself that if I could lose 100 pounds I would sign up for my first half marathon—and I did once I lost 105 pounds.
As of 2016 I have run several 5Ks, 10Ks and half marathons and have been able to keep the weight off for the past four years. It wasn't until just last year that I finally built up the courage to sign up and train for my first full marathon, taking place at the end of this month.
I truly believe that running is a great way to help deal with things that happen in life, and I found it to be a great stress reliever. I have found the running community to be a really good group of amazing people that are full of encouraging words—especially if you are new to running. Even if it's a stranger that taps you on the back and tells you to keep going as you're on that last mile, you can always count on someone to help push you along the way when you feel like giving up. I always tell others that running saved me and made me the runner I am today. It pushed me past my comfort zone and made me realize that I actually can do anything. You can too—the only thing you have to do is TRY!
My advice for anyone preparing for a race is this: Make sure that you are mentally ready for the journey. If you don't have a mindset that this race is something that you want to accomplish, then you are already defeated. That's why it took me so many years to finally say, "Yes, I am ready to run my first marathon." I knew I needed to create a running schedule to make sure it would blend in with my family; runners train throughout the week as well as doing a long run on the weekends, which requires you to wake up early to beat the heat (it gets really hot here in South Florida). I also realized that I had to be very disciplined if I wanted to hit the miles I needed during the week. Running long mileage on the weekends became very challenging for me; I found myself having to think, I can do this! and have many motivational quotes to get me through every mile. Also, it is important to remember that your body is like a car engine; you have to fuel your body with the right nutrition to get you through those miles—you may find yourself eating more throughout the day which is perfectly okay.
I have dedicated my @get_fit_tory Instagram to motivate, inspire and encourage others on a journey to living a healthier lifestyle. All it takes is making that first initial step.