An Open Letter To New York City Marathon Class Of 2016
Congratulations, New York City Marathon finishers! This letter is for you and is a great reminder the power behind what you accomplished.
Heading out the door? Read this article on the new Outside+ app available now on iOS devices for members! Download the app.
Dear Runner,
YOU DID IT! You conquered the impossible. If this was your first time, you may be in shock and disbelief. If this was one of many, you might be thinking, OMG, I did it again! Sitting at home, on your couch, out "sick" from work because you are unable to move and scoping out your missing toenail situation, you're likely posting about your accomplishment like mad and maybe even searching for your next marathon. All of the chafing was worth it, you're thinking; it was all in the name of earning that coveted NYC marathon medal. All of those moments during the race where you thought you might not make it are behind you and you can confidently say to yourself (and scream to the world), "I am a marathoner!"
But before moving on to your next challenge, take a moment to reflect on everything it took to get you where you are today. Take stock of who you were when you started the journey and who you are now. The changes may be subtle for some, but for most—they are great. Look back at the pictures of where you began and recall all of the moments where you said, "I can't" or "I'm not" or "I'll never be able to" and realize that YOU CAN, YOU ARE, AND YOU DID.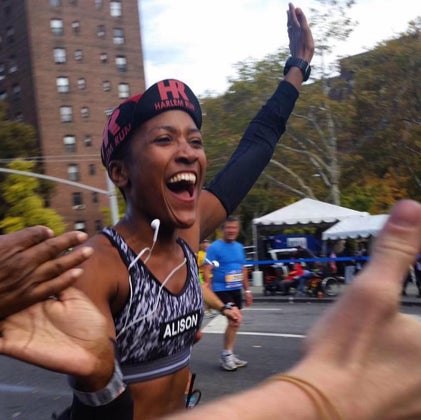 Remember these lessons and apply them to every facet of life.  Let this marathon accomplishment be the catalyst for radical change in your life.
You earned it!
Love,
Alison Désir
@Powderedfeet