Lessons Learned When Your Marathon Doesn't Go As Planned
Sometimes, you have to adjust your expectations on-the-spot during a marathon.
Heading out the door? Read this article on the new Outside+ app available now on iOS devices for members! Download the app.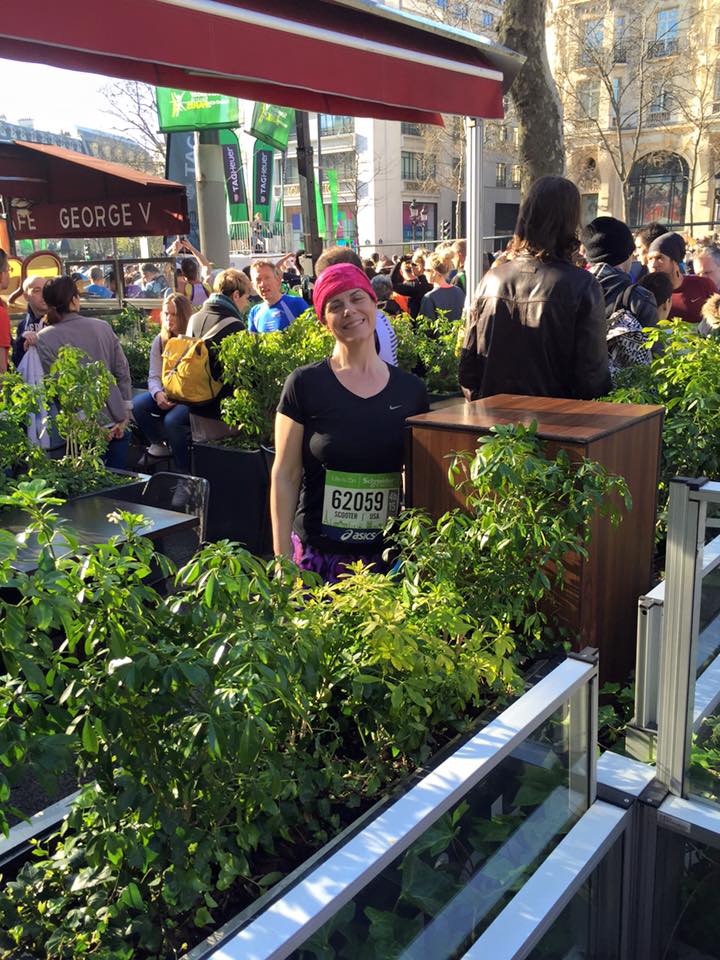 I visualized my Facebook post for months. It helped me get out of bed and out the door in the early, dark, cold mornings of winter and through agonizing 20-mile-plus training runs. I was training for the Paris Marathon, and in my post I would share a picture of me with my medal, grinning from ear-to-ear, reporting that I did my very first marathon in under 4 hours and 15 minutes. My training said that is what should have happened. The race calculations off my half marathon PR of 2:02:58 told me that was completely within my capabilities.
You can go ahead and cue the sad music, because that was SO NOT WHAT HAPPENED on April 3. In a short summary: I was getting sick. I could feel my throat starting to hurt on the train to Paris. My head and legs felt heavy on the morning of the race. My corral started at 10:15 a.m. and it was unusually warm with the sun out, not a cloud in the sky. I had done all of my training in winter and early spring, so it would have been harder even if I would have been healthy that day. By the 5k, I was really concerned that my legs weren't waking up. I took my fluids, blocks and gels, but by the half? I was toast. At mile 18, I was frantically calling my husband, and he and my two kids ran with me for about a kilometer when I reached them up the road a bit later. If it weren't for them, I would not have been able to finish. They encouraged me to keep going. To wrap up the story, I stuck with it, walked when I needed to, and ended up finishing in 4:46:xx. I cried most of the train ride home.
I didn't get to write my fairytale Facebook post. I didn't get to say that the 41-year-old woman who had lost over 100 lbs. and overcame a lifetime of anxiety and depression nailed her first marathon. Instead, I wrote a raw and honest account of what happened that day. In writing my race report, what actually happened in the race unfolded before my eyes, and I was humbled.
I remembered the bands, the cheerleaders, and all of the spectators who also stood out in the heat to encourage us. The little kids with their hands held out to get a high five from the runners. The people at the aid stations who were smiling and handing out water, putting out snacks and furiously cutting up fruit for the weary runners. The people who collapsed in the heat. Calling my husband at mile 18, because I needed help getting by. My family running alongside me, giving me the strength to continue when I was sure I had nothing left. Telling myself that it was ok to walk, it was ok to not be "perfect." Hearing the roaring of the crowd as we approached the final part of the race, I knew my family was among them, so I picked it up a bit so they could see me finish strong.
Even though my race didn't go as I had hoped, so many wonderful things happened that day. I was a bit nervous to publish my race report to Facebook. I was afraid after I had built up the race so much that people might be disappointed in me. I shouldn't have been worried—I received the greatest outpouring of love, encouragement and support. I was completely overwhelmed with emotion reading the responses.
I had a major operation the week after the marathon. I am still recovering, and easing back into running. Even the short distances are so hard right now. From this perspective, I am absolutely in awe of what I did! Even though running the marathon was a struggle, I am just so proud of what I did that day. I fought hard to finish the race, and I think the fact that I finished despite everything that was going against me will make me a stronger runner. I think it already has. On the first day of registration, I signed up for the next year's Paris Marathon.