Get To Know Aly Raisman As A Runner, Not Just Gymnast
The Olympic gold medalist makes running a priority, even as she is out there fighting for womens' equality and continuing to train.
Heading out the door? Read this article on the new Outside+ app available now on iOS devices for members! Download the app.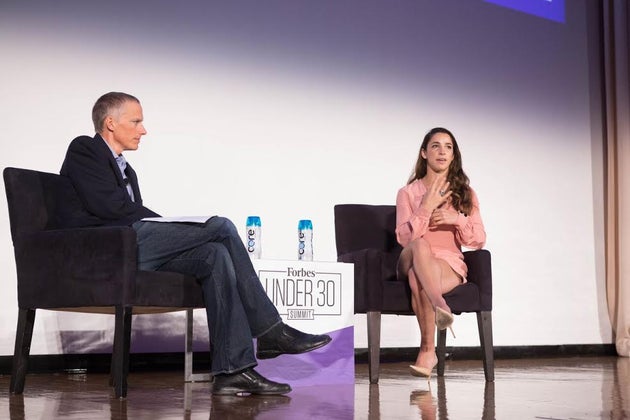 The Gymnast's Running Routine
Aly Raisman's discipline is gymnastics, not running. It's in gymnastics where Raisman, 22, has won six Olympic medals. Yet she has also been known to trade her leotard for running gear on occasion.
Although Raisman has not run an organized 5K, she does run—on a treadmill and occasionally outdoors. Perhaps you've seen the photo of Raisman on a treadmill that she posted to Twitter on Aug. 18, shortly after the Rio Olympics, accompanied by the words "Already back in the gym #motivated." Or maybe the Oct. 29 photo on fellow Final Five team member Simone Biles' Twitter feed, of Biles and Raisman, as well as Nastia Liukin and Ashton Locklear, with the words "Friends never let friends run alone" and a raised-fist symbol.
According to ESPN The Magazine's 2015 Body Issue, Raisman does a 15-minute run each morning. She gets in a morning run even though the morning is when her gymnastics workouts start. When she spoke at the Forbes Under 30 Summit at Harvard Business School last month, she detailed a grueling schedule: workouts six days a week, starting at 8:30 a.m. Monday through Friday and 9 a.m. on Saturday.
Raisman also told ESPN that she is "not a very good runner."
She explained that this is "because gymnastics is all about a minute and a half routine and you stop and go again. I'm really proud of myself if I can go 20 minutes without stopping."
Raisman's Other Projects
Raisman hasn't missed a beat since the Rio Olympics ended. She's staying busy with her line of leotards, jewelry and socks. She said her leotard line would "keep me connected to the sport when I decide to retire, and my sock line is exciting and a lot of fun."
In fact, one sock features the images of Raisman's parents, who famously leaned back and forth in dramatic fashion in their seats while watching their daughter compete in Rio.
Raisman is also using her sock line to raise awareness for a different charity each month. October was Breast Cancer Month, so all throughout the month, anyone with breast cancer could email Raisman's sock line and "we'll send them a sock," she said.
She also said, "I work with a nonprofit on behavioral care. They help people with eating disorders, who struggle with eating disorders."
Her Take And Struggles On And With Body Image
More recently, she and Biles have been speaking out against the perception that gymnasts are supposed to have a specific body type.
"There was a time when both of us were told our body fat percentage was off," Raisman told USA Today. "I was a lot more self-conscious about it when I was younger."
But, she added, "it's something we've both worked hard on so it didn't hold us back."
She can even joke about it, as she did when she extended her hand to suggest a slender profile and said, "Gymnasts are supposed to look like this, like pencils; having a butt is bad in gymnastics," according to USA Today.
Far too many runners have heard similar comments, so Raisman's stance on the subject is encouraging—as is her defense of equality for women.
"I turned 22 years old this summer," she said. "They said I was too old. They called me 'Grandma.' We're in Boston. Tom Brady wins the Super Bowl, nobody asked if he was going to stop. David Ortiz just retired after a lot of years…nobody asked him if he was going to stop."
Whether it's being unstoppable as a speaker, a runner or as an Olympian, Aly Raisman continues to make a difference and take a stand even after Rio.