Kellyn Taylor Aiming For A Top 10 Finish At The 2017 TCS NYC Marathon
A Q&A with Kellyn Taylor reveals that the elite runner aspires to complete Sunday's race among the top 10 female finishers.
Heading out the door? Read this article on the new Outside+ app available now on iOS devices for members! Download the app.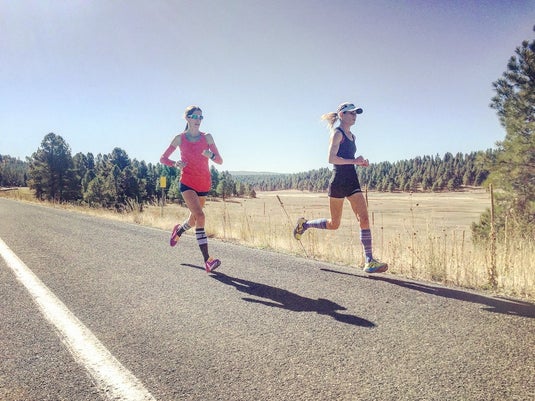 Kellyn Taylor To Tackle NYC Course On Sunday
With a top training partner and some top-level experience already on her running resume this year, Kellyn Taylor is taking on a new challenge: The New York City Marathon.
Earlier this year, she finished 13th in the London Marathon. Sunday's race will be the first time Taylor has run the historic 26.2-mile course through the five boroughs of New York. She's trained for it with fellow elite Stephanie Rothstein Bruce, who is also running the marathon for the first time (they ran the last 10 miles to practice).
Related: Stephanie Bruce Discusses Goals For Her First NYC Marathon
This year's marathon comes at a tragic time–in the wake of the attack in Lower Manhattan on Tuesday. Suspect Sayfullo Saipov faces terrorist charges after allegedly using a rental truck to kill eight people and wound many others on a popular bike path along the Hudson River. Taylor did not immediately respond to a request for comment on the attack.
Earlier, she shared her thoughts about running on arguably the biggest stage in the United States.
Taylor said that, on race day, "I don't know if I'll have any different mentality. I have the same mindset each race. I'm there to do what I set out to do. There's no reason to get too worked up. Do the job, get it done."
She said that if she has a perfect day, her goal would be to finish in the lower half of the top 10, which she called a better goal than focusing on any particular opponent.
"I don't know how everybody else's buildup went," she said. "I don't know if I could single out a single person. I don't know their race strategy."
For the past two months, she focused on training with Bruce in Flagstaff, Ariz.
"It's been a little bit of everything," Taylor said–which is to say, it included "more marathon-speed workouts…14 miles, 16 miles at a steady state, mile repeats faster than marathon pace. It's geared kind of toward running in New York.
Related: Follow Our Coverage Of The 2017 TCS NYC Marathon
Asked how the partnership with Bruce came about, Taylor said, "I don't know if either of us suggested it. It had always kind of been a thought of ours."
Taylor had originally planned to run the storied marathon in 2016.
"It was a big year, an Olympic year," she recalled. "But the marathon trials did not go as planned, the track trials did not go as planned. To top off the year [with the NYC Marathon] would have been very, very great, but I think my body was just exhausted. I had to pull out. It doesn't happen to me too often."
Taylor said she made "a good trade" to swap the 2016 NYC Marathon for this year's event.
"It'll be a challenging race," Taylor said. "I never heard that the marathon's easy. It'll be very hard, an up and down course…hills and whatnot. All the marathons I've done are relatively flat."
But those include a race of similar drama: she ran the London Marathon on April 23, where she finished 13th, in 2:28:51, just behind Diana Lobacevske of Lithuania, who finished in 2:28:48.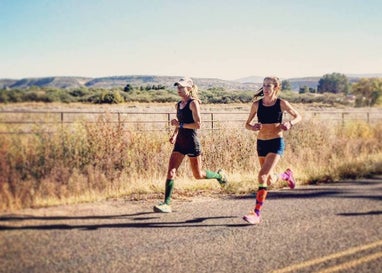 "I think, obviously, it was a huge atmosphere," Taylor said. "The streets were lined the whole marathon, filled with people. It was a good experience to have, to keep my emotions in check, not expend energy on excitement. It takes a lot out of you. You need that energy 20, 24 miles into the race. It was a really good thing to have experienced beforehand."
She said "the actual race" was a plus, as "it's always good to have another marathon [experience]. I continually keep learning…quite a bit of learning."
While training for New York with Bruce, Taylor learned she could prepare effectively as part of a team.
"[Bruce] is a very valuable asset," Taylor said. "We have very different kinds of building up. She is very good at pace. I'm not–I go off [how it feels], sometimes two, three seconds faster than what's prescribed for my body on paper." She acknowledged that "you can't really do that, it will catch up 26 miles down the road."
But just as Bruce helped with pacing, Taylor encouraged her teammate to push the pace.
"I helped push her," Taylor said. "She's very set, and was a little bit hesitant. She didn't think she was capable."
On Sunday, Taylor will be looking to push her own pace once again–this time, in hopes of a solid finish in Central Park.
"Every time you run races, you try to beat yourself," she said. "The mental and physical challenges I really enjoy. I've always been a competitive person. I like to push myself to see how good, how fast I can go."
Related:
Our Q&A With Stephanie Bruce Ahead Of Her First NYC Marathon
How To Watch The TCS NYC Marathon