The Story Behind Jordan Hasay's Decorated Boston Marathon Bottles
Each one was a different theme that brought her motivation along the course.
Heading out the door? Read this article on the new Outside+ app available now on iOS devices for members! Download the app.

Following her Boston Marathon debut—read: her first marathon ever—Jordan Hasay's hydration bottles were posted on Instagram. For any runner, it's important to practice fueling and get familiar with your body and what it needs and can tolerate. So you can imagine the importance of fine tuning your fueling when you're an elite, running to, say, have the fastest American marathon debut ever. That's why athletes like Jordan make sure theirs stand out in unique ways as they whiz by the tables along the course. And, if you're lucky enough to have artsy friends, your bottles will look "particularly pretty" like hers.
"Boston was my very first marathon so the hydration aspect was all new for me. When I raced the Houston half in January, I learned how it all worked. They had a room full of decorations for our bottles!" explains Jordan. "After that I decided I was going to plan ahead for Boston to make sure mine looked particularly pretty! I'm not that great with art, but one of my best friends and former teammates at the University of Oregon, Allie Woodward, is an incredible artist. I texted her to ask if she would do it!"
Jordan actually shipped her friend eight bottles in January, three months before the marathon, and Allie returned them all dressed up by February. "I had them sitting on my kitchen table in the months leading up to Boston as motivation and inspiration!"
Since this was her first 26.2-mile race, Jordan fortunately did not have any mishaps to be cautious about leading into Boston. She explained that the other women were really nice about motioning to each other when to grab their respective bottles along the way. "They let each other in to grab their bottles [on their assigned table and position]," says Jordan, who just started working with Sword this year and drank their product along the course.
Allie chose different themes for each bottle based on things Jordan liked, which included "Friends," Adele and "Frozen." Other bottles were a nod to her University of Oregon alma mater, where she and Allie competed together, and the Nike Oregon Project, the team she currently runs for. "Each bottle stop, I thought about what was on the bottle and the memories associated with it. This gave me good energy during the race! I was so thankful," says Jordan.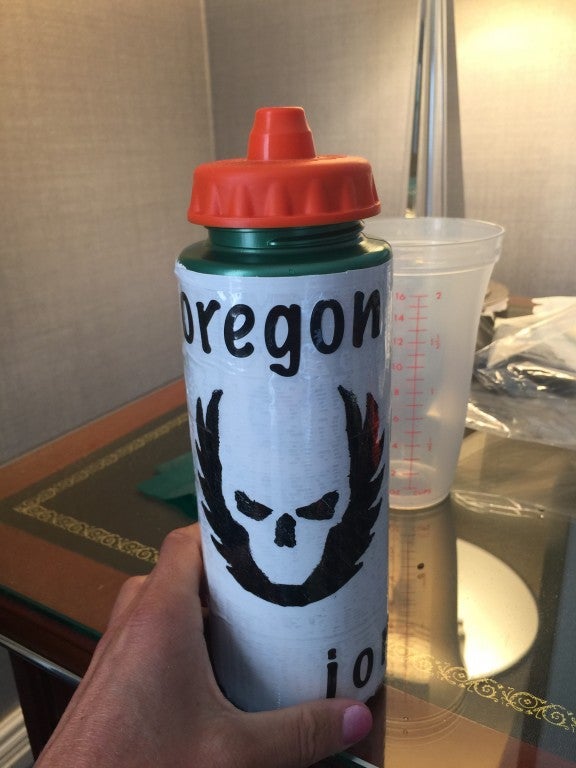 Allie says she also included a wine-themed bottle "because who doesn't deserve a drink after 26.2 miles!" (We agree.) 
"Jordan was a role model for me long before her Boston performance. She remains true to the person who welcomed me as a friend my freshman year, and her perseverance and patience are two things I always admired," says Allie, who was honored to be part of such a tremendous day for her friend.  "I was in awe of what she did as an athlete at Boston, but on a personal level her success meant much more, because I felt it was finally some acknowledgement for all of the work she put in and what she had to overcome to get to the finish line."