Jenny Simpson Chasing The W And Course Record At 5th Avenue Mile
World medalists Jenny Simpson and Emma Coburn discuss the 37th annual New Balance 5th Avenue Mile, which they'll both race on Sunday.
Photo: KevinMorris/PhotoRun
Heading out the door? Read this article on the new Outside+ app available now on iOS devices for members! Download the app.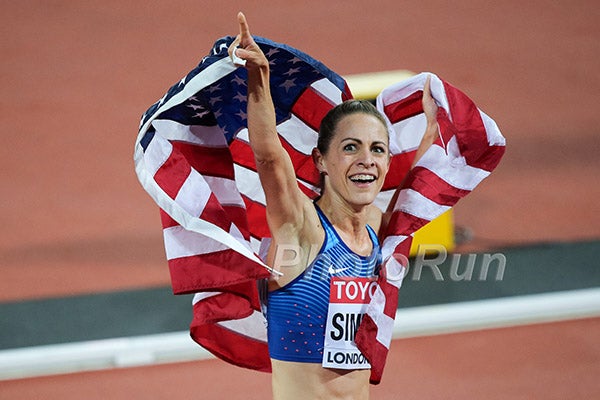 Jenny Simpson And Emma Coburn Are Ending The Racing Season NYC-Style
There's an exciting race taking place this weekend in New York City—but if you blink, you might miss it.
We are, of course, talking about the New Balance 5th Avenue Mile, an annual 1-mile road race that's as fun to cheer for as it is to run. Starting at 80th Street and ending at Grand Army Plaza, the course stretches south in one straight shot along 20 blocks of central Manhattan, right along the edge of Central Park East. It's a popular run that attracts thousands, and the New York Road Runners (which created the race in 1981 and continues to serve as its organizer) is anticipating a record turnout this year, with more than 6,000 participants expected to compete across 23 heats.
Related: The Field At 5th Avenue Mile Is Stacked High
This year's competitors will include 21 Olympians and four world medalists, many of whom we watched in collective awe as they raced at the IAAF World Championships last month. Toeing the line among these elite runners will be world medalists Jenny Simpson, who nabbed silver in the 1500-meter, and Emma Coburn, who took home the gold for her steeplechase win.
Jenny's no stranger to the 5th Avenue Mile; she'll be striving for her sixth title on Sunday. "There's no better stage for U.S. distance running than in New York City," she said earlier this week. "The course record is really strong on the women's side and would be hard to break…but every year I think there can't be a better field, and then there is." (The current female course record belongs to American Olympian PattiSue Plumer, who clocked the mile in 4:16.68 in 1990.)
Emma ran the 5th Avenue Mile for her first time last year and is excited to return. "For years, Jenny has been racing it and winning it and telling me it's so much fun," Emma said. "I was so blown away by the experience last year. The crowd is so energetic."
Jenny agreed that the crowd support is a significant draw. "As you begin the race and head toward the halfway mark, there's energy, people cheering. As you climb to the highest point of the course, which is halfway, that first stretch has the least amount of spectators. Once you get to the peak of that hill, from then forward as you descend and head to the finish line, it's such a great experience of fan participation—a crescendo. The number of people lining the course and the noise of the cheering really begins to build to what is a massive gathering: a loud, cheering crowd at the finish."
After a busy, competition-filled summer, this will be the final race of the season for both Jenny and Emma. "London was such an incredible experience; it was the tip of the spear of where I wanted to peak," Jenny said. "There's this excitement that all this work has paid off. The motivation is, how long can I take all that work and race at this level? You do get tired throughout the season, but coming to New York is always fun. It's always an exciting dash to the final finish line of the season."
"I'm still excited to race and feel like I have momentum on my side," Emma said. "The excitement you get when you win a medal makes you fired up to try to continue racing at a high level. Hopefully I can bring one more performance out for the 5th Avenue Mile."
We're rooting for one final epic performance of the season by some of our favorite athletes! For those interested in watching, NBC will be airing and live-streaming the professional athlete races at 1:30 p.m. EST on Sunday.
Related:
Emma Coburn Talks About Stunning Steeplechase Final And Her Moment With Courtney
Jenny Simpson Nabs Silver With Inside Lane Pass
New Running USA Study Shows Spike In 1-Mile Road Race Participation