How To Start Your Own Girl Squad
To get ready for Declare It Day, it's time to rally some women to be in your corner.
Heading out the door? Read this article on the new Outside+ app available now on iOS devices for members! Download the app.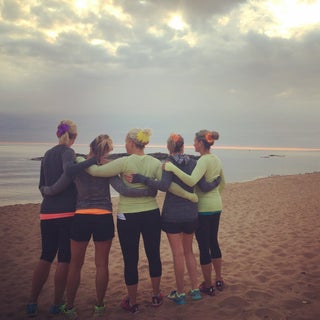 To get ready for Declare It Day, it's time to rally some women to be in your corner. Here are eight tips for bringing together a go-to group of gals:
1. There are no rules for how to communicate. Maybe it's a text thread, maybe it's a monthly dinner, maybe it's a morning run. Do what works for you and let it be easy. Some girl squads will communicate daily and others are less often—it all works.
2. It doesn't have to be a best friend. Sometimes the best partners are those who have something in common with your goal. They will identify with your passion and commitment, and most likely will appreciate having someone in their corner as well.
3. Celebration is a two-way street. Who gets the pleasure of being present in your joy, accomplishments and pride? And how are you returning the favor and supporting them? Don't forget to acknowledge the wins of your squad! Reciprocate the love, joy and high-fives and let everyone feel the love.
4. Avoid being the Debbie Downer or Drama Queen. The purpose of a girl squad is not to be a dumping ground. If you are going to share the struggle (because, yes, we all have them), be sure to also expand on what you're going to do about it. Or ask a question so your squad can offer wisdom and perspective. Dig in, deepen the thought and do the work.
5. Leave judgment and comparison at the door. It's tempting, right? When we see someone crushing a goal or making huge strides in their training to reflect on our own progress, or lack thereof. But that is one of the quickest ways to tank the mojo of your squad. Focus on being inspired and fueled by your squad—these are your sisters, not your competition. Joy, pride and gratitude are infinite. 
6. Honor the dance of it all. Sometimes it's your day to celebrate, sometimes it's about creating the space for someone else. The quickest way to ruin a girl squad (and morning run with the girls) is when somebody hogs the space and doesn't acknowledge those around them.
7. Show up as you. The bravest work we will ever do is showing up as ourselves and being fully seen, and knowing that that is enough. We are all worthy of this space, and our imperfections are what create the authenticity. Drop the long-held shield and let these women love you for you.
8. Not sure where to start? Start by asking. Yes, it can be this simple. Be vulnerable, be brave and let someone know you're looking for positive accountability. Chances are, they are too.