How Running Helped One Runner Reconnect With Her Father
Running helped strengthen the bond between father and daughter.
Heading out the door? Read this article on the new Outside+ app available now on iOS devices for members! Download the app.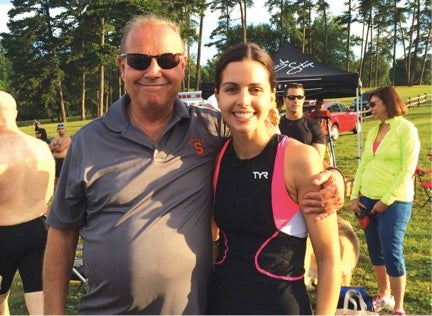 Growing up, Colleen Wilber had a difficult relationship with her father, Jared. A small business owner who worked long hours and struggled with alcoholism, Jared often missed his daughter's competitive cheerleading competitions and sports games when she was in school.
Now a 37-year-old vice president at a public relations firm in Washington, D.C., Colleen has been able to repair and strengthen the bond with her 67-year-old father through a shared interest in running.
"My relationship with my dad has gotten better over the last 15 years (how long he's been sober) but it wasn't until I started getting into endurance sports that our connection really deepened," she says.
Colleen picked up running in 2011 when she signed up for her first half marathon, which eventually led to five more halfs, three marathons and her first Ironman on Sept. 27 in Augusta, Ga.
Jared's health issues—having had an aggressive form of bladder cancer and suffering from severe asthma—prevent him from running long distances with his daughter, but just being present at her races and encouraging her has been enough to make up for the times he couldn't be there for Colleen during her childhood.
Colleen says, "I still remember the out-of-the-blue voicemail my dad left on my phone several days after my first marathon just to tell me how proud he was of me."
WHO'S YOUR BIGGEST FAN?
Email your submission to editorial@womensrunning.com! Featured entries win some sweet WR swag and a free subscription (or renewal) for you and your fan!
Read More:
Runner Honors Father, Raises Thousands For Charity
Mother And Daughter Chronicle Their Running And Weight Loss Goals