Here's What It's Like To Get 4th Place At The Olympic Trials
Amanda Eccleston's life changed in just a few seconds.
Heading out the door? Read this article on the new Outside+ app available now on iOS devices for members! Download the app.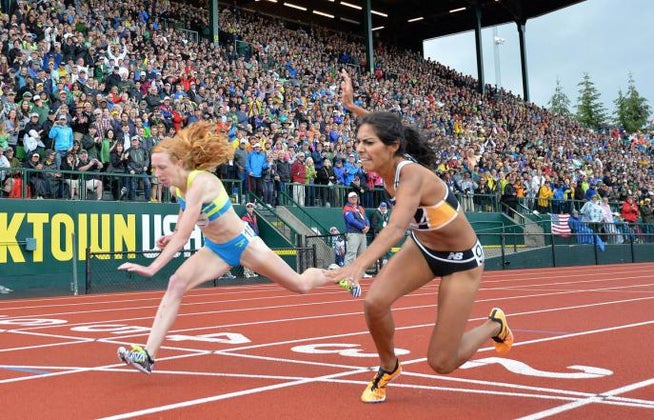 *Republished with permission from Amanda Eccleston
0.03 seconds is about the amount of time it takes to blink your eyes. It's also the amount of time that separated me from becoming an Olympian. It's funny, in an ironic sort of way, because you see the scenario playing out in your head thousands of times, sprinting down the homestretch battling neck and neck with another athlete for that final coveted Olympic spot, and you wonder if you'll really dive for it when the time comes, so you just imagine that you throw yourself across the line and the crowd will scream like crazy because you just slipped into that third spot and will forever be an Olympian. And that's exactly how the story played out, with a fairy tale ending, only it wasn't my fairy tale.
The last two weeks have been a whirlwind of racing and travel, but I've had some time to finally process the Trials final. I lay there on the ground just past the finish line with my hands over my face, not because I was too emotional or in pain from falling, but because I was trying to block everything out and listen to the announcer. I heard "Jenny Simpson… Shannon Rowbury…" then a pause. I was repeating over and over in my head Amanda Eccleston, Amanda Eccleston, Amanda Eccleston, and then, "Brenda Martinez!" Someone helped me to my feet; I remember looking into the stands in daze, trying to find my family because I knew they were just past the finish line. I gave them a small wave and then slowly stumbled off the track. I didn't feel devastated or heartbroken at that point; I didn't feel a lot of anything.
I had a hard time at first describing how I felt because it was like swinging back and forth on a pendulum. On one side I am absolutely thrilled and so proud of my performance and competitiveness through all three rounds. I sailed smoothly through the prelims and semis feeling very relaxed and controlled, knowing there was more there for the final. And in the final, despite the fact that I made a few tactical errors with being too far back to cover moves and place myself within reach, when the time finally came with 100 to go and I could see third place, I went for it heart and soul, and I know without a doubt there's nothing else I could have done at that point. But the outcome was tough to swallow. On paper it may seem like a surprisingly good finish for me, but I expected nothing less; I expected top 3.
Luckily for me, there wasn't a whole lot of time to dwell after the Trials. Three days later I boarded my first international flight ever to Italy, and that's when the story starts to get good again. Running has literally taken me to places I've never imagined and given me incredible opportunities to both run and explore the world. I just got back from my first ever Diamond League race in London, a race that I was only able to enter after my performance at the Trials, and ran two 1500 PRs in 5 days. I've received overwhelming support and condolences, with the general theme being that I'm young and will be there in 2020. And you better believe I'll be out there, God willing, going for the Olympic team in four years. But I won't worry about 2020 until 2020. Although the title Olympian is the most coveted honor our sport offers, it should not be the only definition of success. There is so much more to strive for in both racing and life between now and then, and I plan on taking advantage of each and every opportunity.
I really thought fourth place would be incredibly painful, but now my heart is so full of joy from support and getting to do what I love that there isn't much room for sadness. God has blessed me abundantly this past year and given me the strength and ability to go after my dreams. So many things have to go right to have a chance at the Olympic Team. I was blessed enough to have everything fall into place at the right time, and that is a very rare gift. I don't know if that will be the case in 2020, but I had my chance this year, and lining up for the Olympic Trials final is a memory I will always cherish. I can think back to that race and smile because I have no regrets.
There are moments when heartbreak still gets to me, like when I walk into a coffee shop or store with no thoughts of that race at all, and suddenly a TV begins playing a commercial for Rio. It's hard not to feel a slight stab of pain seeing Olympians and the inspiring music set on the beautiful backdrop of Rio and not wish things had ended just a little differently. But 0.03 seconds doesn't have to define me. The joy I receive through running and the people involved far outweighs that fraction of a second. I have countless goals left and things I want to accomplish in this sport, and I feel like I'm just getting started. I honestly can't wait to see where running takes me and all the incredible people who get to share this journey with me. Thank you to all of you, because you are what picks me up from disappointment and keeps me running strong!