Gabe Grunewald Will Train For U.S. Championships During Cancer Treatment
Tremendous story about a tremendous runner.
Heading out the door? Read this article on the new Outside+ app available now on iOS devices for members! Download the app.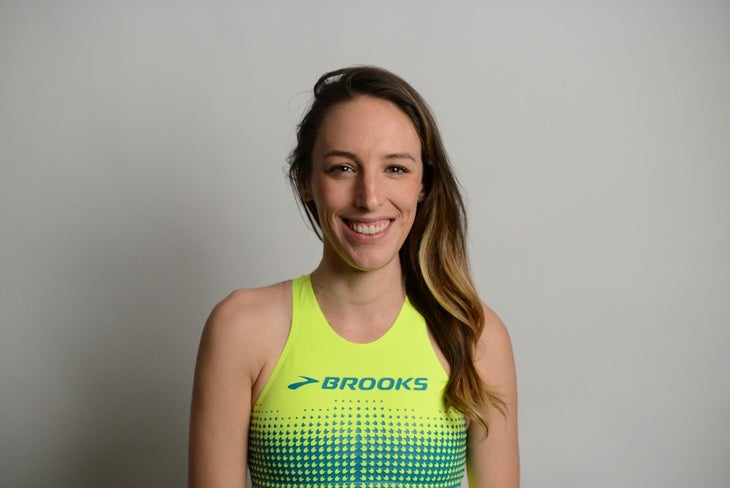 There aren't enough words to describe the bravery, eloquence, dedication and inspiration behind elite runner Gabe Grunewald's recent IAAF blog post about continuing competition during her chemotherapy treatment. You might remember her as the runner who got disqualified, then re-instated, at the indoor championships in 2014. In it, the runner re-tells how a rare cancer she fought in 2009 had returned last year, this time in her liver. While other elites were preparing to go to Rio, Grunewald was preparing to fight for her life.
"My husband Justin, an internal medicine resident physician, gave me a hug on a Sunday morning in early August and noticed that something felt weird about my abdomen. I agreed. I had felt some tingling and fullness in that area over the last month or so, but nothing painful or too out of the ordinary. Long story short, a trip to the ER later that same day showed what we had both feared: there was a large tumour in my liver."
After undergoing surgery to remove the tumor, Grunewald spent a lot of fall 2016 recovering, antsy to get back to training for the next track season. And she did get ready and competed in the 1,500 meters this past weekend at the Payton Jordan Invitational…
…even after finding out in March at her post-op appointment that the cancer was still in her liver.
"We're not sure if it is all new cancer or if some was left behind from the surgery. It doesn't really matter. There are small tumours, too many for a surgery. I need treatment."
Grunewald goes on to share that she will be visiting doctors in New York to discuss treatment options…but the part that sends chills down your arms and tears to your eyes is when she says, "I am planning to race through the month of May regardless of whether or not I've started treatment, with the goal of running the qualifying standard for USA Championships in the 1,500 meters."
Her cancer has no cure and limited treatment options, but Grunewald says, "Cancer can stop you from doing a lot of things, I'm well aware of that. But I'm more interested in what cancer can't stop me from doing. Here's to finding out."
We are rooting for great times and successes in all of the hard races ahead of you, Gabe! You've got this.