Elite Runner Is Turning 40 At The 40th New York City Marathon
Professional runner Dot McMahan is taking her first NYC Marathon start line this weekend. Here's what she is looking forward to most.
Heading out the door? Read this article on the new Outside+ app available now on iOS devices for members! Download the app.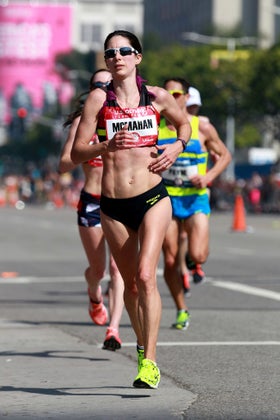 Professional runner Dot McMahan has a lot to celebrate as she takes to the start line of this year's New York City Marathon. Not only does she get to race as an elite on the 40th anniversary of the race—she also turns 40 and officially becomes a Master's runner the same day!
"Technically speaking I am moving to Master's, but I put myself still in contention with non-Master's runners," she chuckles. "That is my goal; I still don't think of myself as a Master's runner. I mean, I am, but I am still hoping to compete well just as an elite athlete."
The dream of running New York City started two years ago for McMahan, but it falling on her birthday was purely coincidence.
"Two years ago Desi [Linden, who trains with McMahan through Hansons-Brooks] was running the New York City Marathon, and I always knew that New York City was on the first weekend in November," McMahan recalls. "When she ran it, I actually put it together and thought, That would be crazy if it landed on my birthday, but what are the chances it will land on my birthday in the next few years—thinking that I am probably not going to run marathons forever. Ironically, it landed on my 40th birthday."
McMahan is no stranger to running marathons; she has finished top-10 twice, in 2008 (eighth) and 2012 (ninth) in the Olympic Trials Marathon—so she has her race strategy down pat.
"I think everybody should go in with the same mentality," she shares. "It should feel relatively easy the first 20 miles of the race. You have to pace your metabolism and everything else that is going on; not just actual watch pace. I need to make sure that I am feeling good enough through 20 miles, so you are pushing it, but you are telling yourself, I am holding something back; this is easy and I am within myself."
This isn't something that just elite athletes struggle with, she adds, noting most people have a tendency to feel good at the start of a race and think that picking up the pace is fine. McMahan, however, doesn't make her move until after mile 20, focusing the first part of the race to make sure she feels good up until that point.
So what is she looking forward to the most about her first New York City Marathon? The city and crowds, of course!
"I have heard so much about the crowds and the five boroughs and that each borough is kind of unique, including the fans," she shares. "I feel like it is going to be like running five marathons because I am expecting each borough to be just different enough that it will feel like a totally different race as I move through the course."
McMahan notes she wouldn't be here without the support of Hansons-Brooks, who motivates her to get out there every day and do what she needs to do. As a mother, she shared that it can be a struggle to juggle time, but she is grateful for all of the support she receives in a daily basis. That gratefulness is something she urges first-time marathoners to have as well.
"When you're out on the course in New York City, take some moments along the way to appreciate what you are doing," she urges. "It doesn't affect your race at all to have those moments. For most first-time marathoners, they may be thinking, I haven't run more than 20 miles! Well, at mile 20, really appreciate the fact that you just ran 20 miles and you are going to run 6 more. I think just having that gracious approach really helps you get through it and makes you realize how unique the marathon really is."