Not Into "Traditional" Race Distances? Check These Ones Out.
5Ks, 10Ks, halfs and marathons are great—but why restrict yourself to running popular distances?
Heading out the door? Read this article on the new Outside+ app available now on iOS devices for members! Download the app.
THE EXPERT: Beth Shutt
Brockton, MA
As the head coach of The Run Formula, a registered dietitian for The Core Diet and a professional triathlete, Shutt knows how to balance a busy schedule while keeping training fun. One of her favorite ways to stay motivated to race is by signing up for a variety of distances. The former Penn State University athlete drew on her 25 years of running experience to share her favorite offbeat mileage races and tips for training for each one.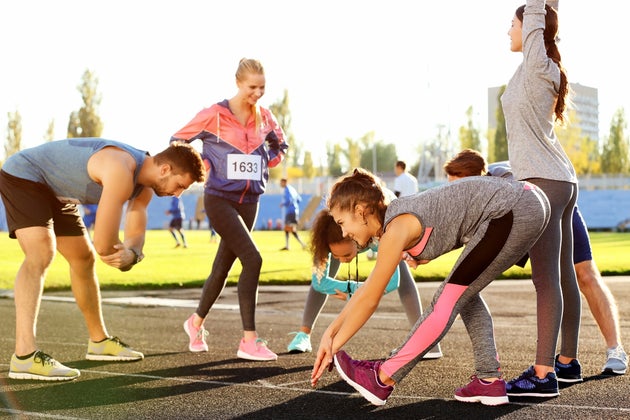 DISTANCE: 1 MILE
The Liberty Mile is one of my favorites because it's hosted where I was born and raised. The entire city comes out for the event, which includes multiple age and ability categories. Don't forget to watch the professional wave—it's cool to see runners go crazy fast!
SEPT. 2017, Pittsburgh, PA
libertymile.org
Training Tip: For this shorter distance, your training should include interval work at race pace to prepare for the high intensity. A good track session to try:
10-minute warm-up jog
+ 4 x 200 meters at race pace with 200 meters easy jog to recover
+ 2 x 400 at race pace with 400 meters easy jog to recover
+ 4 x 200 meters at race pace with 200 meters easy jog to recover
+ 10-minute cool-down jog
Gear Rec: Consider a light pair of racing flats to help you run with lightning speed!
DISTANCE: 8K
With a fast, flat course and an offbeat distance just under 5 miles, you're almost certain to score a PR at the Shamrock Shuffle. Make sure to look up and take in the sights as you race past many of Chicago's famous landmarks!
April 2, 2017, Chicago, IL
shamrockshuffle.com
Training Tip: A race of this distance requires both speed and some endurance, which makes tempo running a must. In addition to a track session, include one tempo run during the week. Try 2 x 12 minutes at threshold pace.
Gear Rec: Held in early April, this race can be cold, hot, wet or dry. Basically you should pack a race outfit for all kinds of weather. Be prepared for anything and you won't be sorry!
DISTANCE: 12K
Set in San Francisco, the Bay to Breakers 12K promises 7.46 miles of heart-pounding fun. Though it's shorter than a double-digit run, your legs will be tested on some of the city's steepest streets. Nudity, floats and mid-race alcohol may have all been "banned" (wink!), but this event is still famous for its race-day shenanigans.
May 21, 2017, San Francisco, CA
zapposbaytobreakers.com
Training Tip: To conquer the serious inclines in this race, you should include some hill sessions. Try 5–6 repeats of a 2- to 3-minute incline at a hard effort, with an easy jog down for recovery.
Gear Rec: Take your experience to the next level by running in costume!
DISTANCE: 8.15 MILES
Get your sea legs ready for the Great Aloha Run in Honolulu. The 8.15-mile Goldilocks distance is perfect for runners hoping to stretch just beyond the 10K mark without committing to the training demands of a half marathon. Did I mention it's in Hawaii?
Feb. 20, 2017, Honolulu, HI
greataloharun.com
Training Tip: Despite being held in February, this will be a steamy race for most runners. It's great to incorporate training sessions indoors on a treadmill to get used to warm temperatures. You can throw some hot yoga into your routine to acclimate as well.
Gear Rec: Carry a handheld bottle to help meet your hydration needs on the run!
DISTANCE: 50K
If you're ready to go beyond the marathon, The North Face 50K is a stunning choice. The 31.1-mile race is off-road and the terrain is quite hilly—but the views from California's Marin Headlands cannot be beat.
Dec . 3, 2016, Fort Barry, CA
thenorthface.com
Training Tip: An ultramarathon requires serious training to ensure body durability. Back-to-back long runs are a great way to build up your muscular tolerance. Since this is an off-road ultra, you should intentionally train on like terrain with similar elevation gain and loss.
Gear Rec: Carrying a pack and having a solid fueling plan are musts for ultra-racing. Nutrition can make or break you during a race of this length.