Cover Runner Erica Schenk Is Honored At Teen Choice Awards!
The runner has inspired thousands of others to be confident in their own skin.
Heading out the door? Read this article on the new Outside+ app available now on iOS devices for members! Download the app.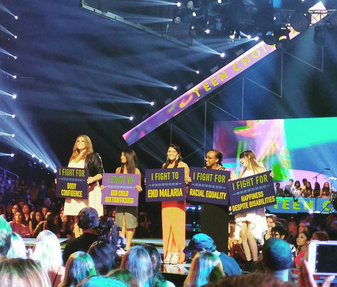 At this year's Teen Choice Awards, Erica Schenk was honored for courageously promoting body confidence and body love through example (The woman is a 10-year veteran runner!). Her choice to grace our August cover and pages inside has been met with much positive feedback and support. We caught up with Schenk and asked her thoughts on these last few weeks, moving from cover runner to award-winner.
Women's Running: Did you anticipate the huge impact your Women's Running cover would have on the fitness world?
Erica Schenk: I thought a few media networks would pick it up, there would be a few interviews and then it would die out. I knew  it'd be a story but I didn't anticipate anything like this!!!
Related: Why Every Body Can Be A Runner
WR: How have you felt about the last month overall with all the attention and kudos you've been getting as a cover runner?
ES: I'm so proud of the athletic community really reaching out and being so accepting of this HUGE step forward in body love. The response has been overwhelming and so positive.
WR: What have you learned over the last month about female runners and about yourself?
ES: I learned there is a large population of curvy women who feel they need to change to be accepted into the running community. In the past few weeks I've gotten women writing me saying the cover inspired them to stop waiting and get out there!
WR: You received the Courage Award at the Teen Choice Awards tonight—tell us your first reaction when you found out you had won!
ES: Originally I thought it was a prank. Me? Courage Award? Then my agents booked my flight back to LA and I knew they were very serious. I still am in awe of how many people believe in me and the body-acceptance movement.
WR: What message do you hope your entire journey, from cover to award-winner, sends to teen girls about body image?
ES: Get healthy. Mentally and physically. Friends will come and go but first and foremost be your own friend.
WR: What's next for you in your running career?
ES: Next I am planning on running the 5K at Rock 'n' Roll Los Angeles. Hope to see y'all there!!
WR: Do you see yourself as courageous for being the face of running this last month?
ES: It took a lot of strength for me to be in public working out. It took even more to be on live camera, which is something I'm very uncomfortable with.
WR: What's been your favorite part of this entire journey?
ES: My favorite part is the women I feel I've helped. There are so many women who are ashamed when there's absolutely no need to be.
Can't find the August issuse? The digital issue is now available with a $5 subscription. Read up on Erica, her running habits and her Perfect Fit gear feature!