Allie Kieffer To Race The 2018 NYC Marathon
Oiselle runner Allie Kieffer announced today that she intends to run the 2018 New York City Marathon.
Heading out the door? Read this article on the new Outside+ app available now on iOS devices for members! Download the app.
Racing NYC To Run For The Future
Nearly nine months after racing to an unexpected fifth-place finish in the 2017 New York City Marathon, Allie Kieffer announced this morning that she plans to return to the course in 2018—this time as a professional athlete with multiple sponsors and an excited fan base that'll cheer her through every mile. "There will probably be pressure mounting before New York City, but now it's just exciting for me," Kieffer told Women's Running. "This has been fun to be part of."
Kieffer's announcement came less than four weeks after Boston Marathon champion Des Linden declared she would take on New York City this fall and after New York City Marathon defending champion Shalane Flanagan signed up to coach 95 runners to the starting line on November 4 (though Flanagan herself hasn't yet revealed whether or not she'll toe the line alongside them). Like Flanagan, Kieffer has embraced an opportunity to train others for the New York City course. "This year, I get to announce [my marathon bid] early because I'm doing a program that will give back to the youth in New York City," Kieffer explained.
The program in question is called Run for the Future, a free, seven-week program created by New York Road Runners that challenges young women to give running a try during the summer before entering their senior year in high school and culminates in a 5K at the end of the season. Everyone who finishes the program, the 5K and agrees to attend three or more Run for the Future "alumni" events in the year that follows receives a scholarship. "They get life skills, healthy habits, and at the end of the summer program, as long as they've gone to the classes, they get a $2,000 scholarship to college," Kieffer said. Though the application window for this year's program closed on April 1 and limits acceptance to those entering their senior year in high school, the athletic requirements to apply are few. "You don't have to have been a runner to get into the program," Kieffer said.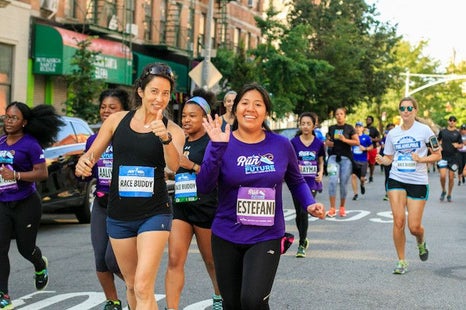 Kieffer's role comes into play in Run for the Future's fundraising stage. Along with her coach, Brad Hudson, Kieffer is devising training programs for aspiring New York City marathoners who donate money to Run for the Future, some of whom will receive personalized training programs to prepare them for race day. (This particular perk will be reserved for those who sign up for the "Gold" training program, though all are expected to have access to Kieffer's personal training plans for comparison.) "You'll get training tips, nutrition tips, an Oiselle shirt and a community of all these people doing it together," Kieffer said. "We'll have a Facebook page on which people can communicate, so there's that community involvement. A couple of goodies from my sponsors will be packaged into this, and a third of the proceeds will be donated to the NYRR Run for the Future program."
Related: Meet The Elite: Our Q&A With Allie Kieffer
Kieffer also hopes to arrange a meet and greet in the days before this year's New York City Marathon, but a date has not yet been confirmed; in the meantime, she's focusing on her training. "Going into New York City last year, I did a 13-week buildup, which worked well because I was doing 5K and 10K training before that," Kieffer said. Since she's been racing frequently this year, Kieffer plans to adjust her training schedule accordingly, with only one more race on the docket before New York City (a to be determined half marathon that she'll run over Labor Day weekend) and a plethora of training tips at her disposal that she picked up while training in Kenya earlier this year. "I got into incredible shape there; part of that is because of the hills in Kenya. You can't avoid them. It's something I've tried to bring to my training in the U.S.," she said, adding that hill training can only help when preparing for the New York City course.
Through her work on behalf of Run for the Future and her role as a member of the stronger than ever American women marathon team, Kieffer continues to inspire young women through the choices she's made as a professional athlete thus far. It's a responsibility she seems humbled to have, though there is of course still a part of her that's striving not just for inspiration, but for the win. "I'd love to be on the podium," Kieffer said. "I know it's going to be an amazing American women's field, and internationally as well. The distance running community is incredible, and it makes you rise to the occasion. It's incredibly challenging. I'm excited to be part of that."
To learn more about Run for the Future, follow this link, and find Kieffer's official announcement about her collaboration with Run for the Future here.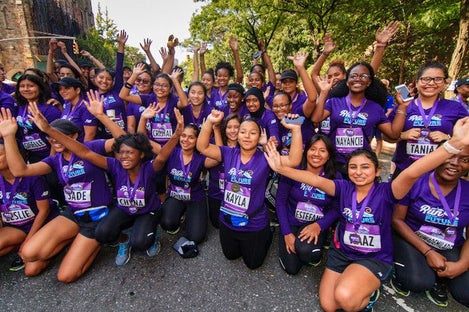 Related:
Catching Up With Allie Kieffer: The Latest Add To Oiselle's Nest
Des Linden To Race The 2018 TCS New York City Marathon
Shalane Flanagan To Coach 95 Runners For This Year's NYC Marathon