Wishing The Caribbean And Its People A Speedy Recovery
Reminiscing on her first run while visiting the U.S. Virgin Islands, one runner wishes the Caribbean a speedy hurricane recovery.
Heading out the door? Read this article on the new Outside+ app available now on iOS devices for members! Download the app.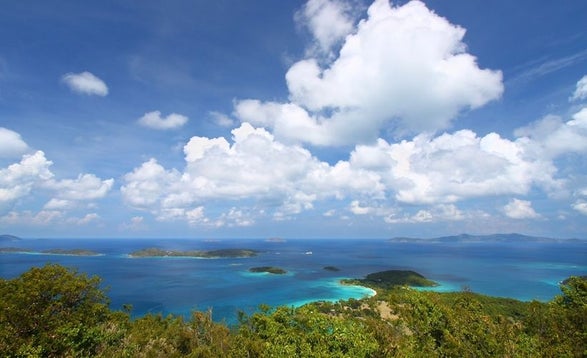 I was 18 years old the first time I summited Caneel Hill and gazed out over the Caribbean. It was my first trip to the U.S. Virgin Islands, my first time running up those steep hills and careening down their backsides. But it only took one trip to get hooked. I was enamored with the Caribbean and its people.
Running through the Virgin Islands also reminded me of running on Puerto Rico four years prior. It seemed like the same wild chickens were chasing me across the countryside, hiding from the sun's rays.
During my three vacations to the Caribbean, my love for the land and its people grew. The beaches, the rainforest, the winding mountainous runs: it's all great for training and incredible to behold.
And now, it lays in ruin.
Now, because of Hurricane Maria and Hurricane Irma, the same smiling faces that waved hello to me during morning runs are streaked with tears. The same trails I ascended are littered with debris. The Caribbean spirit is being tested for all it's worth. How will the people respond when the power is out, when food is scarce? How will they recover? But to me, the answer is clear: the islands will prevail over the destruction.
Why? In some ways, life in the Caribbean is starting over; but in many other ways, it is not. The stunning resilience of the islands, the foundation of their beauty–that lives on. The grit and strength still whistle through the trees; the people still have hope. That identity cannot be broken.
With the help of others and with continued courage, the Caribbean will recover and the entire world will once again revel in its beauty.
Until then, the hilltops that humbled my quads and the kindhearted people who waved me on will continue fighting. Until then, the world will keep fighting with them. The Caribbean is embarking on its own kind of marathon, and it will be more difficult than any 26.2 miles could be. But if we can provide some fuel and cheering along the way, it will be easier. If we can come alongside these people and spur them on, they will run and recover that much faster.
Until I can crest Caneel Hill and once again see the bustling of a vibrant island, I will be the supportive teammate that the Caribbean needs–because even the strongest athlete can go further and faster with the help of others.
Related:
I Ran A Race On A Tiny Caribbean Island And It Was Spectacular
How I Dealt With A Race Cancellation In Jamaica
Safety Tips For Training And Racing During Natural Disasters