8 Wellness Resorts For Fitness Enthusiasts
These wellness getaways will restore your mind, body and soul.
Heading out the door? Read this article on the new Outside+ app available now on iOS devices for members! Download the app.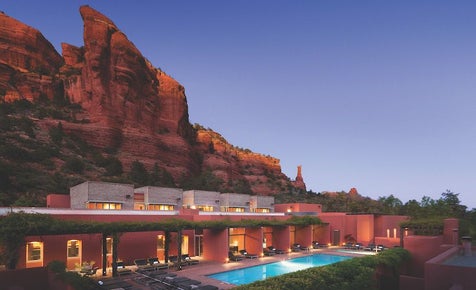 On Your Way To Wellness
In today's fast-paced, high-stress world, vacation days are more important than ever for rest, recovery and rejuvenation. It's no surprise, then, that the biggest travel trend today is not about lavish meals or over-the-top parties, but self-care and wellness. Health-focused travel is on the rise, with an estimated 17 million travelers identifying as "focused on health and well-being" in a study conducted by the Global Wellness Institute.
But contrary to what you may think, this is no spa day. In the past five years, wellness tourism has shifted from facials and massages to a more holistic approach. Today's health-focused travel is all about restoring mind, body and spirit—helping you return from vacation truly rested and refreshed. Want to get on the path to wellness? These healthy retreats are just the ticket.
Wanderlust Festivals
Nationwide
This four-day festival travels around the world to help guide participants on the path to a healthy and inspired life. Billing itself as an "all-out celebration of mindful living," Wanderlust brings together yoga and meditation instructors, musicians, speakers and chefs to instruct on everything from Kundalini Yoga to ChiRunning (a run form workshop with a meditative component) to farm-to-table cooking.
Art of Living Retreat Center
Boone, N.C.
Want to find your bliss? Head to this 360-acre sanctuary nestled in the peaks of the Blue Ridge Mountains. The rooms are sparse and the location is isolated, allowing participants to focus on self-care without distractions. In addition to broad wellness programming—guided meditation, Hatha yoga, nourishing vegetarian dining and endless trails to connect with nature—the center offers several focused retreats throughout the year, including happiness retreats, Ayurvedic (mind-body) health and silent retreats, where participants immerse in full days of guided meditation, silent inquiry and rejuvenating yoga.
Red Mountain Resort
Ivins, Utah
Go for a trail run in nearby Zion National Park, then attend a workshop on posture and alignment to identify muscle imbalances. After a healthy, wholesome lunch, attend a workshop on Earthing, a shamanic practice to reconnect to the power of nature, or rev up with a Drums Alive cardio class, a high-octane workout that will get you moving to the beat (literally). Finish the afternoon lounging by one of the three pools on-site.
New Life Hiking Spa
Killington, Vt.
Lush mountains, gorgeous hikes, fresh food, incredible massages—what's not to love? This northeastern retreat is a perfect way to vacay with Mother Nature. In addition to daily hikes ranging from 3 to 6 miles, the spa offers a variety of activities for the body and mind: kayak excursions, yoga sessions, cooking workshops, massage and stretching studios.
The Mirage Resort
Las Vegas, Nev.
When people think "wellness destinations," it's likely they don't think of Las Vegas. The Mirage, smack-dab in the middle of the Las Vegas Strip, is trying to change that. The resort now offers packages to cater to health-conscious travelers: In addition to specially appointed Stay Well rooms featuring circadian lighting, air purifiers and vitamin C–infused showers, the Mirage offers made-to-order healthy fare, a fully appointed fitness center and a super-chill yoga class in the resort's underwater dolphin viewing area.
Lake Austin Spa Resort
Austin, Texas
This eclectic waterfront resort has it all: tai chi classes in a treehouse studio, aqua tabata intervals in the pool barn (yes, that's a pool in a barn), workshops on gratitude and Friday night s'mores at the fire pit. This wellness retreat somehow manages to be simultaneously luxurious and unpretentious, where everyone is welcome and nothing is off-limits, so long as it helps you unwind.
The GOOD Fest
Nationwide
Even if vacation time (and funds) are limited, rejuvenation is still within reach. Hit up the one-day GOOD fest, a trendy traveling festival that is all about deepening your commitment to a healthy lifestyle. The event includes relatable, fun speakers on all aspects of wellness, from body positivity to healthy sexuality to inspiring change in your community. Attendees can also shop at a wellness marketplace, take yoga classes and sip on cocktails with their new healthy BFFs.
Mii Amo Resort
Sedona, Ariz.
Set within the stunning red rocks of Sedona, Ariz., this world-class resort is the perfect antidote to hectic schedules and demanding deadlines. Its three-, four- and seven-day retreat packages are crafted to help every guest find their Zen. Start your day with a sunrise hike in Boynton Canyon, attend a meditation workshop or book a 90-minute "energy clearing" treatment, where a therapist uses relaxation techniques and integrative body work to release old thoughts and energy patterns. Lunch on fresh, wholesome meals created with ingredients from the on-site gardens. And don't miss the nightly stargazing tour—it's a perfect end to a perfect day.
Related:
Why Running Retreats Are 100 Percent Worth The Investment
Embracing A Digital Detox At Rancho La Puerta
The Important Reminders I Received At A Mindful Running Retreat