5 Questions With Top-10 Finisher Dot McMahan
The two-time top-10 Olympic Trials finisher is back, making a strong case for a spot on the 2016 team.
Heading out the door? Read this article on the new Outside+ app available now on iOS devices for members! Download the app.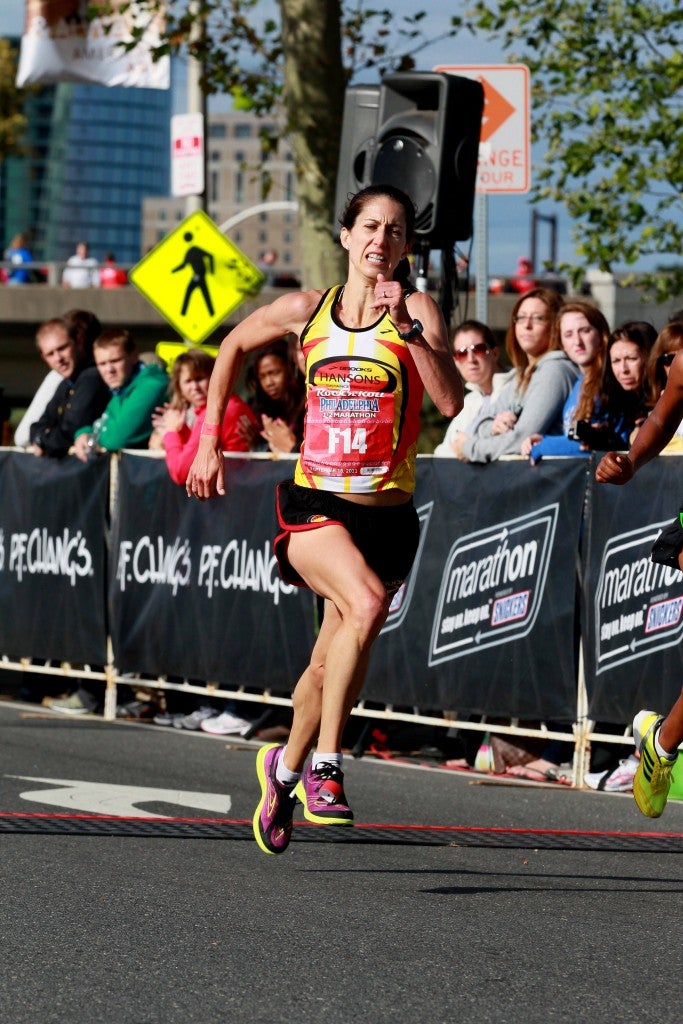 Marathoner Dot McMahan is the only athlete other than Deena Kastor to finish in the top-10 twice, in 2008 (eighth) and 2012 (ninth), at the Olympic Trials Marathon. Training with fellow Hansons-Brooks Project athlete Des Linden, McMahan is poised to make a strong showing at this year's event next month in LA, and her training partner says she's one of the toughest runners out there. We asked her a few questions:
Women's Running: After finishing top-10 in last two marathon trials and seeing the field for this year, in your opinion, what effort will it take to make the team this year?
Dot McMahan: Sub-2:25 to make the team and sub-2:31 for the top-10.
Related: 5 Questions With Alana Hadley
WR: If you had to have one song stuck in your head for the entire race, what would it be and why?
DM: Van Halen's  "Right Now" I'm dating myself, but I first heard this song my freshman year of high school during track season. I still love Van Halen.
WR: For everyday runners who might not have ever tuned into the Olympic Trials before, why should they pay attention to this year's marathon trials?
DM: What's a better way to spring board into Valentine's Day? In all seriousness, all 2012 Olympians are returning and are the favorites. I think there will be at least one or two upsets.
Related: 5 Questions With Deena Kastor
WR: You're probably one of more experienced runners in the field when it comes to years running—what advice would you give to a first-timer who is competing in the trials on Feb. 13?
DM: A criterium course makes for an unique racing experience. (The course is four 6-mile loops.) Usually you only see your spectators once or twice on the course. For the trials, you will see them once or twice or more per lap. Remember to keep your composure, it's easy to get fired up every time you hear them cheering for you. Restrain your excitement to reserve energy for after 20 miles.
WR: Desi Linden is known for her tenacity and toughness when racing, and she says you're one of the toughest people she knows—what kind of fuel does that give you, especially since you'll be racing next to each other on Feb. 13?
DM: It certainly means a lot when it comes from someone I respect. Desi and I have been teammates for 10 years. We've seen each other at our worst and best running moments. Even in our personal lives, we've watched each other grow and mature. Not only do I value her friendship, I love training and competing with her. She helps keep running fun for me.