4 Selfies That Every Runner Should Be Proud To Take
Even if you hate pictures, there are some milestones that should be celebrated and snapped so you can look back and celebrate.
Heading out the door? Read this article on the new Outside+ app available now on iOS devices for members! Download the app.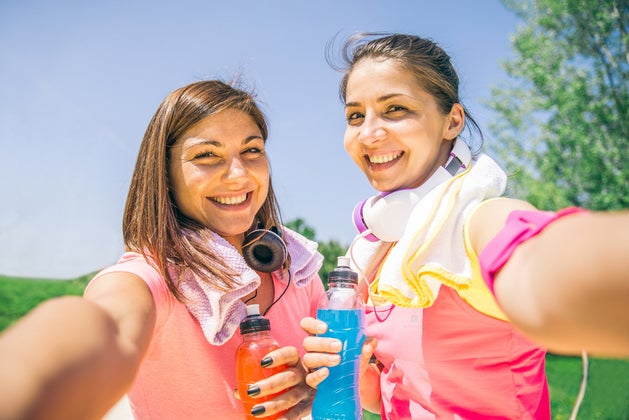 When it comes to your running milestones, you probably have a solid collection of race bibs and medals; maybe even your first pair of running shoes. Those items bring back fond memories and remind you of how far you've come. But if your collection doesn't include a few photos of yourself, you're missing out. Pictures capture specific, special moments of your running career in a way those other mementos just can't. Even if you don't like to be in pictures, these are a few selfies you really should consider snapping. If selfies really aren't your thing, feel free to ask a fellow runner, your mom, even a stranger, to take the shot—whatever it takes to make sure you don't miss out on these photos. They don't have to be Instagram-worthy, they just have to be a quick candid you can keep at your desk or in your gym bag; just wipe the sweat off your brow, say cheese, and get on with your next memorable run.
Crossing the finish line of your first race
While you may think you'll never forget the thrill of your first race, as time passes, it's easy to fall into the cycle of training for a race only to complete it and immediately set your sights on the next one without really relishing each accomplishment. Keeping a photo of your first time captures the emotions you felt finishing that race—joy, pride, relief—reminds you why you fell in love with running and puts the spark back into the grind of training.
After a really bad run
You probably think the last thing you want to remember is that time you gave up and went home mid-long run or had to duck into the woods to avoid an, ahem, accident, but looking back on your worst day is a fantastic way to reflect on how far you've come. You don't have to capture the actual moment things went wrong—a simple post-run sad face selfie will jog your memory—but having that little reminder that you survived will make it easier to power through your next running disappointment.
When you reach a major running goal
We all set out to be runners for different reasons, whether it's to get in shape, to lose weight, or to race a certain distance. So when you finally reach your personal goal, by all means, take a picture. Take a hundred! Running is hard, and sticking with it to achieve your goal is even harder, so don't hesitate to snap that celebratory selfie of you flexing your calf muscles, the scale at your goal weight or your watch with your longest distance to date. You worked your butt off and you deserve to remember it for years to come.
A group shot with your running pals
As goals change or people move away, your running buddies will change over time. So when you find a pal or group that you cherish and love running with, be sure to get a snapshot after a great workout together. The fantastic community is one of the best parts of being a runner and the friends you made along the way are something you'll always want to remember.