19-Year-Old Alana Hadley Has Olympic Dreams
Alana Hadley, the youngest Olympic Trials qualifier, tells us how she balances freshman year with 100-mile weeks.
Heading out the door? Read this article on the new Outside+ app available now on iOS devices for members! Download the app.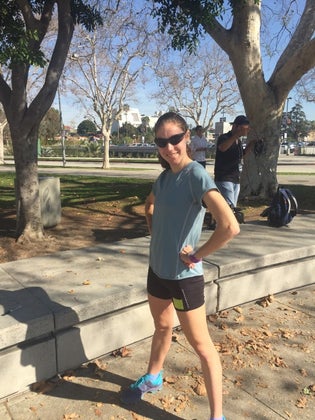 Alana Hadley, in her first year at UNC Charlotte, has spent the last few months training to race with some of the fastest marathoners in the world. Tomorrow, at the Olympic Marathon Trials in Los Angeles, Hadley will be the youngest runner to toe the line. Women's Running caught up with the ingénue to see how she's feeling on the eve of the big day.
Women's Running: How does it feel to be the youngest runner competing?
Alana Hadley: It feels really good because I know it's something that I've been working really hard toward. It's really nice to know that I got it at a young age. That just means that there's more that I get to enjoy later on.
WR: What does running the Olympic Trials mean to you?
AH: It means a lot to me because the Olympic is definitely a goal I have—like I want to at least makes one team. It's something I've always wanted to do and I'm here and I'm doing it—it's really big for me.
WR: What are your goals for the trials?
AH: Really with how the heat's going [temperatures of 82 are predicted], time really isn't a main concern. It's really just doing as best as I can with the conditions and try not to fall off a lot—making sure I'm staying cool!
WR: What do you think you'll be feeling on the start line?
AH: I think there will be some nerves, I think that's normal. I've heard so many people say, "If you're not nervous, you're doing something wrong." But I think there will be a lot of excitement. I'll be looking around like, "Oh, there's Shalane. There's Desi. There's Amy Hastings. There's Kara." It's going to be so exciting because three of these people are going to the Olympics.
WR: What's your pre-race ritual?
AH: I'm going to wake up three or four hours before the race, because I'm not a morning person. I'll probably go and to a 5-minute shakeout run and then grab a little bit of something to eat. I'll go to my room and listen to music until it's time to go. I always listen to, "Eye of the Tiger."
WR: How do you balance 100-plus mile weeks with school?
AH: It was definitely tough to make that transition, but I'm doing the minimum course load. I'm taking 13 hours this semester. I make sure my schedule is balanced so I'm not waking up super early for runs or running super late at night.
Related: 5 Questions With Alana Hadley