11 Apps You've Never Heard Of But Should Check Out
There's an app for that—no seriously, there's a ton of apps for everything. Here's 11 options for the health and fitness nut.
Heading out the door? Read this article on the new Outside+ app available now on iOS devices for members! Download the app.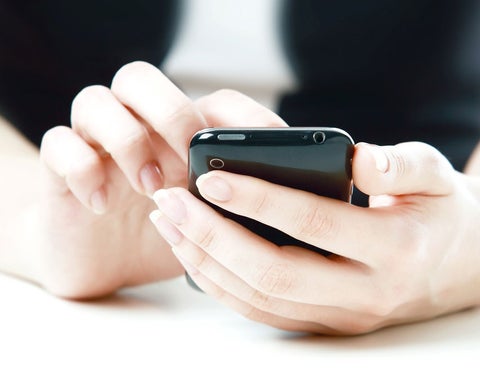 Raise your hand if you feel like there are too many apps to choose from? Each app seems to solve your fitness problems. With hundreds of new ones hitting the app store weekly, it's hard to determine if it's download worthy. Whether you're a foodie looking for new recipes, a fitness junkie trying to stay up-to-date with the latest fit news, or someone just looking for something new to try, these apps are worth a "Get" click.
NutriMatix
The new fitness-meets-tech vitamin app offers a personalized, high-quality vitamin blend—tailored to you based on a survey of diet and activity, and syncing with fitness trackers. The vitamin mixes are orange-flavored and allergen-free and work for anyone ranging from Paleo, to ultrarunners, to gluten-intolerant, to fitness newbies.
Fill out an initial questionnaire within the app, then users sync up their trackers to Nutrimatix's system, and based on the information, a breakdown of necessary vitamins are provided. Nutrimatix then creates a custom vitamin pack, shipping a 30-day supply of the vitamins formulated just for you.
TinDog
Everything is always better with your favorite four-legged friend, so why not let your furry pal help you search for your forever?
The TinDog app—much like Tinder—matches you with others nearby, except dogs are involved. And everything is always better when Fido is in your picture. Since you already have one thing in common—your love for dogs—there's already an interest to break the ice. Meet up at a dog park or suggest for a dog-friendly run and see if there's a new fitness friendship—or even love connection. Swipe right (interested) or swipe left (forget about it) to find the pawfect mate.
Spring Moves
Workouts feeling a bit sluggish? Crank up the beats and get moving. Spring app creates a jam-packed playlist that matches your cadence. Lace up and start running. Let the beats help you move and before you know it, you'll be done logging miles. Hey, you might even find a new favorite song.
Elevate
A healthy body needs to have a healthy mind. Elevate is your personal trainer but for your brain. Each day play a new game that keeps your mind exercising. Learn where you have strengths and areas of weakness. Strengthening your brain can help you work harder, stronger and boost confidence. Plus, it's always fun to see when you beat your record—even if it's associated with a word game.
Quick, what's a two-letter word that means you just crushed it? PR!
Zeel
It's the Uber for massages. Zeel, an on-demand massage service, comes to your home in as little as an hour or schedule up to a month in advance. Select what kind of massage you want, and Zeel will provide the best massage therapist for your needs. Pay per massage or choose the premium membership for monthly credits, massage table and other perks.
Clue
Simple to use and to the point, this period tracker takes the guesswork out of your cycle and doesn't have pretty pink flowers and butterflies like most period-tracker apps. Cute icons like a storm cloud for PMS days, red rain drops for period, sexy icons for when it's best to conceive and mood trackers to track how you're feeling during your cycle. Simple and allows you to add previous periods from the past year.
Paleo.io
Take the guesswork out of Paleo eating. Paleo.io is straightforward and easy to use. No bells and whistles. You simply ask if the food item is Paleo and it will let you know "yes" or "no" and explain why. Next time you're stumped at the grocery store, log onto this app to get the answers quickly and easily.
MoveWell
Created by experts for those who are short on time, MoveWell offers quick workouts for the busy body. Each move demonstrates the move and has a count down clock so you know if how to do the exercise and how much time you have left. Pair the warm-up video with the squat workout for a quick 22-minute routine—and then go about your day. More workout routines are being added and you can purchase additional ones too.
Sleep Cycle
Wake up refreshed and ready to tackle your day. Sleep Cycle studies your sleep pattern and wakes you up during your lightest sleep phase—meaning no more startling alarms clocks! Hey, if you get a good night's rest then you'll be able to perform better the next day and so on.
Rise
Diets don't work. There's an end to a diet. But to live well, you've got to develop healthy eating habits that you're able to maintain for life. Rise helps you create these healthy habits and keeps you accountable. How it works: Sign up, find your coach, and snap photos of your meals in the app. Every day your coach will review what you've had and help you tweak your eating habits. Track your progress and see results.
EMeals
Meal plans delivered to your inbox with helpful tips, tricks and weekly sales at your grocery store. EMeals plans your weekly meals based on your dinner preference, family size and budget. It then will send you recipes for the week, from your favorite magazines and celebrity chefs, and then you go to the store and pick up the ingredients you need. It's a time-saving, budget-friendly app that helps you eat healthy at home.