Editor-In-Chief Rebecca Warren Celebrates 100th Issue
Our new editor-in-chief is celebrating Team WR's 100th issue milestone.
Heading out the door? Read this article on the new Outside+ app available now on iOS devices for members! Download the app.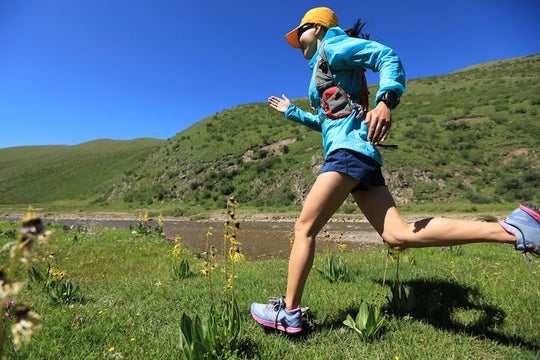 Hello everyone! Thank you for reading the 100th issue of Women's Running, featuring Coffey Bragg. I am so proud to join the team at this exciting moment for the brand. Jessie Sebor has created an amazing magazine and cultivated an informative and inclusive community for women runners over the last 99 issues, and I am honored to carry on her legacy going forward. We have added some new members to Team WR, and we are all eager to get to know you and bring you new and exciting content to keep you happy, healthy and encouraged as you get your miles in.
Our August issue was dedicated to beginners. Whether you've never run before in your life, or you are coming back to the sport after some time away, we've got you covered here and in future issues, from training plans to nutrition tips to motivational strategies. If you doubt that you can become a runner, let me assure you that you most certainly can.
Fear of failure held me back from pursuing running for a long time. As I commuted through London every day, I would see scores of runners on the sidewalks and along the paths in the park. They looked so powerful, and I thought it must be so satisfying to know that you could propel your body confidently through the world. I wanted to feel that sense of pride. I wanted to be able to run for miles, to be able to confidently say I was a runner. But I was waiting for someone to give me permission to claim the title of athlete, of runner, to confirm for me that I was good enough to do the thing I wanted to do.
Then one day when I was in my early 20s, the desire to run, the urge to just move my body without regard for the opinions or approval of anyone else, overpowered the fear. I went to a huge running store in the city center and was fitted for a pair of shoes, which included running on a treadmill in the middle of the store, and two magical things happened. First, I didn't die from embarrassment. And second, the salesperson acted like this was a totally normal request, me wanting to buy a pair of "real" running shoes. It was in this unexpectedly shame-free moment, a box of shiny new kicks in my hands, that I realized I was the only person keeping me from being a runner. There was no test I had to pass, no application I had to fill out, no entry fee I had to pay to be exactly who I wanted to be. I started my 5K training plan the next day, and I never looked back. Every side stitch, every bout of burning lungs and aching legs reminded me that I was in control of my life. I got to decide if I was a runner, and the answer was a resounding yes.
We hope you decide to be a runner, and we will be with you every step of the way!
Related:
A Look Back At 100 Magazine Issues And What's To Come
The Beginner's Guide To Perfect Running Form