10 Songs From Rock And Roll Hall Of Fame Nominees
The Rock and Roll Hall of Fame choices are always a bit controversial, but here are this year's inductees—and snubs—for your enjoyment.
Heading out the door? Read this article on the new Outside+ app available now on iOS devices for members! Download the app.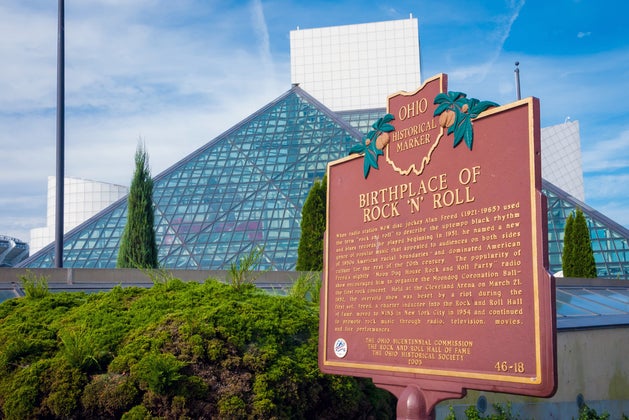 Each year's Rock and Roll Hall of Fame inductions produce some controversy. KISS fans—for example—lamented the fact that band was eligible for 15 years before the Hall finally inducted them in 2014. Similarly, rock purists tend to bristle at the idea of their guitar-wielding heroes being joined by rap groups like N.W.A. This year's upcoming ceremony includes more of the same, so we've compiled a look at some of the year's choices and snubs.
Each of the year's inductees—Electric Light Orchestra, Pearl Jam, Journey, 2Pac, and Yes feature in the playlist below. The only omission is Joan Baez who, though great, would feel out of place in a running mix. Renaissance man Nile Rodgers is represented by a track from his group Chic, but his induction likely owes more to his string of production successes with David Bowie ("Let's Dance"), Madonna ("Like a Virgin"), and Daft Punk ("Get Lucky"). Other artists whose 25 years of music have made them eligible for induction–though they didn't pass muster with voters–include Depeche Mode, The Cars, Janet Jackson, and Jane's Addiction. Ultimately, whether an artist makes the cut this year, next year, or never, there's much to be said for creating a body of work that endures decades in the public imagination. To that end, you should draw plenty of inspiration—and maybe a few memories—from the playlist below.
2Pac & Dr. Dre – California Love – 92 BPM
Electric Light Orchestra – Don't Bring Me Down – 116 BPM
Pearl Jam – The Fixer – 152 BPM
Journey – Separate Ways (Worlds Apart) – 130 BPM

Yes – Owner of a Lonely Heart – 125 BPM
Janet Jackson – Black Cat – 114 BPM
Depeche Mode – Personal Jesus – 130 BPM
The Cars – Just What I Needed – 128 BPM
Jane's Addiction – Been Caught Stealing – 104 BPM
To find more workout songs, folks can check out the free database at Run Hundred. Visitors can browse the song selections there by genre, tempo, and era to find the music that best fits with their particular workout routine.