Rock Your Run: 10 Recent Songs Above 145 Beats Per Minute
Run Hundred presents a playlist of recently released songs that all measure above 145 beats per minute.
Heading out the door? Read this article on the new Outside+ app available now on iOS devices for members! Download the app.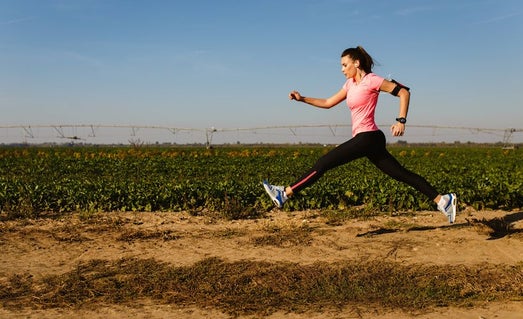 The BPM Sweet Spot
Owing to the growing influence of genres like reggaeton and tropical house, pop music has been getting slower over the last few years. At the same time, rock songs—which usually employ a higher number of beats per minute—have been edged off the radio almost entirely. (The last time a band topped the Billboard Hot 100 was when MAGIC! released "Rude" in 2014.) Between these two developments, folks looking for fast tracks to score their runs may find what they need on the college radio charts.
Our survey of recent highlights–all of which clock in at 145 beats per minute or faster—kicks off with an affirmation from Green Day and winds down with a rhetorical question from Bleed American. Given rock's generally faster tempos, everything below features a guitar somewhere in the mix. In the case of White Reaper's stadium-ready "Judy French," the instrument is dominant. However, in The Killers' "The Man," the guitar is part of a larger musical tapestry. The only real outlier here is Portugal. The Man's genre-defying "Feel It Still," which one might have pegged as a college radio hit before it snowballed into a double-platinum, Grammy-winning smash. With everything above in mind, here are 10 recent songs for runners who favor speedy beats.
Green Day – Still Breathing – 150 BPM
The Killers – Run for Cover – 166 BPM
The Wild Lips – This Might Be My Breakdown – 172 BPM
Bantam Foxes – Ghost – 186 BPM
Gorillaz & Jehnny Beth – We Got the Power – 150 BPM
Captiva – Road to Ruin – 162 BPM
White Reaper – Judy French – 145 BPM
The Foreign Resort – Take a Walk – 165 BPM
Portugal. The Man – Feel It Still – 158 BPM
Bleed American – Where's the Fire? – 150 BPM
To find more workout songs, folks can check out the free database at Run Hundred. Visitors can browse song selections there by genre, tempo and era to find the music that best fits their particular workout routines.
Related:
10 Recent Workout Songs Built Around Classic Hits
These Songs Were Voted The Best Workout Music