10 Reasons To Run The Mountains 2 Beach Marathon
Nat Runs Far shares her top 10 reasons why runners should consider registering for the Mountains 2 Beach Marathon.
Heading out the door? Read this article on the new Outside+ app available now on iOS devices for members! Download the app.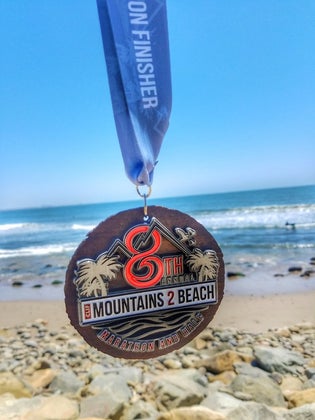 The Mountains 2 Beach Marathon has been on my marathon bucket list for quite some time. It seems to be on so many "must run," "fast course" and "scenic beauty" marathon lists, and everyone that runs it seems to come away with a huge smile on their face. After a lot of research, I was very excited to choose this race as my 10th marathon.
The course and location are stunning and the race organization is top notch. Here are my top 10 reasons why you need to run this course.
1. Location, Location, Location
I'm a southern California girl with a deep love for our beautiful state and the Mountains 2 Beach Marathon highlights the best parts of why people can't wait to visit. The race begins in Ojai, a stunning, quaint mountain town that is a vacation destination all by itself. Tucked far away from the city with gorgeous trees, vibrant flowers and mountains that don't look real, this is the perfect spot to start a marathon. Portapotties were in one central location next to the starting line and, most importantly, they had lines of reasonable lengths. I was able to make a bathroom pit stop, take off on a short warm up and get back to the starting line in short order.
The course is really beautiful. It has rolling hills with a net downhill (but nothing extreme to hurt your quads—note that the first 3 miles are net uphill), and you'll want to gaze at the scenery along the way, which will make the miles pass quickly. After miles and miles in a mountain town, you'll end at the beach in the beach town of Ventura. The last 3 miles are just enough of a long, gradual uphill that you will feel it after running 23 miles. Make sure you prepare for this in your training.
2. Race Volunteers
A marathon can succeed or fail based on the quality of aid stations and volunteers along the way. The volunteers were friendly, encouraging and helpful with plenty of water, Clif shot gels and electrolyte fluids. (This race used Fluid, so I would suggest practicing with this drink during training.) In the later miles, the stations were more plentiful on the right side of the road rather than the left, so keep this in mind as you are running.
3. Race Communication
Mountains 2 Beach did an excellent job of sending out race updates and they even had a complete race handbook that outlined every single detail to ensure each athlete's success. From exactly where to park and catch the bus to the start to bib pickup and more, you'll have all of your questions answered.
4. On-Time Start
I loved that the race began promptly at 6 a.m. Let's face it: When you are running a marathon in late May, you want to get started as soon as possible to beat the heat! It was such a treat to see the sun rising above the mountains early in the morning. The officials started right on time, which is exactly what you want to ease your nerves and get going on the journey you've spent months preparing for.
5. Great Places To Cheer
There are multiple places for your friends and family to see you along the course. My family was able to see me at the start, mile 6/7, mile 20 and at the finish. There was even one point during the later miles that my husband drove by on the freeway next to me and honked his horn. That gave me extra pep in my step for sure. This race makes it easy to have a cheering section, which is what everyone wants during a marathon. In addition, there are a lot of people out cheering for the runners. This is not Boston, New York or Chicago, so there aren't people along every inch of the route, but it does feature a nice hometown feel with lots of enthusiasm.
6. Epic Finish Line
During the last mile, you will be running on a path along the ocean—and then suddenly, you'll see the straightaway to the finish line dotted with American flags and tons of spectators. It is really special and you feel the adrenaline flowing, encouraging you to sprint all the way to the finish.
7. Great Medal
You earned it and it's a cool one!
It's important to get something in your body post-race to start recovering. The race had a nice array of healthy food (fruit, crackers, etc.) and drinks for everyone, plus additional portapotties also.
8. Post-Race Ocean Access
Quick dip in the Pacific, anyone? It's a great way to begin the recovery process on a beautiful beach that is right next the to finish line. Hello, paradise.
9. So Many BQs!
Many runners choose this race because of the high amount of Boston qualifying times that it produces. They even have a BQ bell to ring and let me tell you, the line was very long. Great job Boston bound runners!
10. FREE Race Photos
Major bonus points here, friends. Beautiful, high-quality, complimentary online race photos! You also have a choice to purchase, if you'd like a hard copy. The race photographer did a great job and this feature brings runners back to the race year after year.
Happy running, friends.
Related:
5 Reasons To Run The Redondo Beach Super Bowl 10K
Race Recap: The 2018 Capital City Half Marathon