What To Say To That Mid-Run Selfie Loving Friend
But what if you don't want to stop for a mid-run snap?
Heading out the door? Read this article on the new Outside+ app available now on iOS devices for members! Download the app.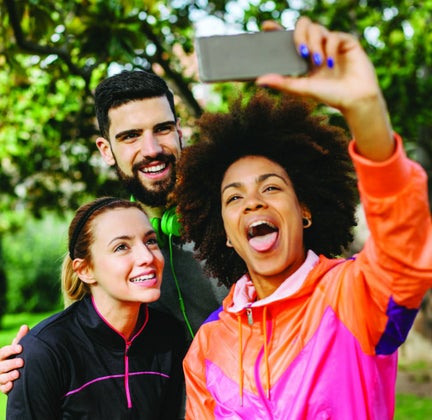 Etiquette expert and runner Lizzie Post knows a thing or two about the rules of the road.
Q: My friend likes to take photos while we're running, but I don't want to stop in the middle of our run. Is it rude to continue and ask her to catch up?
This is a tough call. I think the best time to address it is before you start the run. Asking ahead of time, rather than when you're in the moment, will take the pressure off . Your friend won't feel rushed and you won't feel held back if you both know from the get-go what to expect.
Related: Can You Tell A Running Buddy To Ditch Her Headphones?
Try something like, "I know you love to take pictures on our runs, but do you mind if I keep going when you stop, and you can catch up when you're ready?" If she gets uncomfortable with the idea of having to chase you, you can always try backtracking, so that you are then looping back to her as she wraps up the photo session.
Have a question for Lizzie? Email editorial@womensrunning.com or tweet @womensrunning with the hashtag #ProperForm.