What To Do In The Final Minutes Before The Start Of A Race
You're in your corral, waiting for the race to start. Now what?
Heading out the door? Read this article on the new Outside+ app available now on iOS devices for members! Download the app.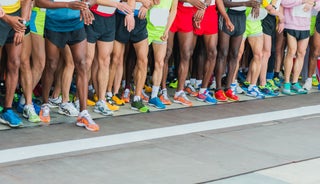 Race day is here and you've found yourself standing in a start corral nervously waiting for the race to begin. You've trained hard and been excited about this race for weeks and maybe even years. Up until now and even during your taper you were busy doing things to get ready and now that you are standing in your corral you're not quite sure what to do with yourself aside from freak out. If this sounds like a familiar scenario, here's how to handle those last few minutes before the race.
Visualize crossing the finish line. See yourself achieve your goal, throwing your arms up in the air and celebrating as you run your final steps of the race.
Double or triple tie your shoelaces.
Review your race plan and recall all the hard workouts you accomplished during training that prepared you for this day.
Fidget with your gear and hair one last time and make sure everything including your ponytail is secure and ready to go!
Introduce yourself to your fellow runners. If you're running a big race you'll most likely be lined up according to an assigned corral based off your pace and therefore will be surrounded by runners with a goal similar to yours.
If there is enough space, do some light stretches or just shake out your legs to keep your muscles loose.
To help manage any pre-race anxieties take in deep breaths, while fully exhaling to help lower your heart rate and calm your nerves.
More Tips From Race Pace Jess:
Find Out Why A Tune-Up Race Needs To Be On Your Training Plan
Here Are A Few Reasons Why You May Have Had A Bad Run