I Tried Mountain Running And It Changed Everything
This runner's journey took an unexpected turn...up a mountain.
Heading out the door? Read this article on the new Outside+ app available now on iOS devices for members! Download the app.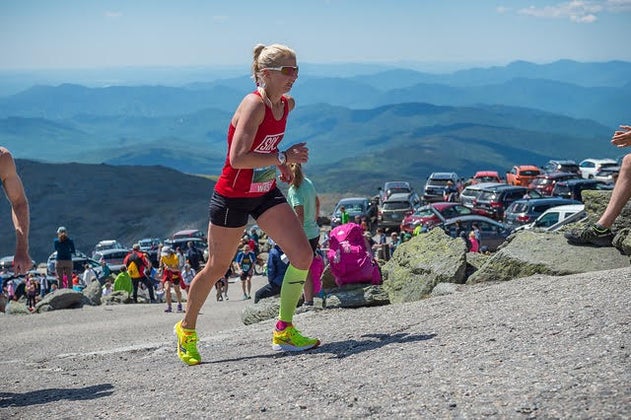 Photo Credit: Joe Viger
When I started running, my goal was to run a marathon. It was a bucket list thing. Train for a marathon, run it and move on. I never imagined I'd become so hooked on the sport that it would become not just an integral part of my daily routine, but something that has shaped me into the person I am today.
How I Got Into Mountain Running
This summer my running journey took a long anticipated turn…up a mountain. The mountains have always been part of my life; I grew up hiking in the White Mountains in New Hampshire. Later I would meet my husband there and together we've taken our kids hiking. Yet somehow this love of the mountains never coincided with my love of running, until this summer when I signed up for The Mount Washington Auto Road Race.
The Mount Washington Auto Road Race is listed as one of the North America's hardest running races, with a 7.6 mile ascent up the 6,288ft mountain with grades ranging from 9-25 percent. I've wanted to run this race for a while and have put my name in the lottery multiple times. I was lucky enough this June to snag a spot at the start and was eager to see what this race was all about.
RELATED: This French Mountain Race Will Give You Vacation-Envy
I knew it would be a challenge, one I felt ready for since it fell after my spring marathon. I spent the month of May running repeats on a ski slope during the week and doing longer mountain trail runs on the weekends. All that "training" would later be put to shame by the unrelenting ascent of The Mount Washington Auto Road Race.
The race proved to be harder than any marathon I've ever run, an unrelenting climb that made your lungs and legs burn. There was no break, except to walk, slumped over trying to get further up the mountain. Within the first few miles, I had to let go of all my expectations for a strong race and simply focus on forward motion. Every step was a battle.
Why You Can't Curse Mountain Running
But even in those moments of physical pain, I couldn't curse the race, not the way I'd momentarily cursed the marathons I'd run. You know that moment when you wonder why you ever signed up for this in the first place? But this, this was different. All I had to do was look up and see the surrounding mountain peaks and realize that the moment with all it's pain and discomfort was exactly where I wanted to be. I wanted to be out there. Out there on a mountainside trying to get to the top. Out there Embracing the Hill.
RELATED: This Runner Almost Gave Birth While Hiking In The Mountains
When I set out to try mountain running I knew it would be a challenge, but it was far harder than I ever thought and far more rewarding. And I want more. I've always raced the roads, but now I'm hungry for more mountains, more trails, more vistas that take your breath away. If you can't find me at the start of a road marathon, it's because I've headed for the hills.