This Ultra Needs To Be On Your Bucket List Immediately
What do you get when you combine the Green Mountains of Vermont, fresh-out-of-the-oven pizza and cool beer in a finisher's pint glass?
Heading out the door? Read this article on the new Outside+ app available now on iOS devices for members! Download the app.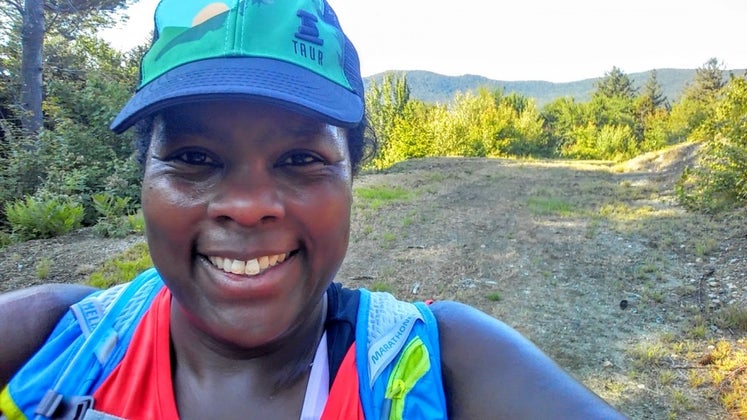 What do you get when you combine the exquisitely lush Green Mountains of Vermont, excellent thin crust, fresh-out-of-the-oven pizza made with local cheeses, crisp, cool beer in a heavy finisher's pint glass, and lung destroying trails? You get what is quickly becoming one of my favorite trail events: The Catamount Ultra directed by Will Robens in charming Stowe, Vermont. If you've never been to Stowe, GO RIGHT NOW—if only for the race, the cheese, the beer, the farmer's markets, the Dutch pancakes, the views, the general stunning beauty of the area—this is most definitely a race to put on your New England run-cation list, whether you're a newbie trail runner or a weary Hoka-clad veteran.
The course (25k or two loops for 50K) is comprised of various interlocking trails at the beautiful Trapp Family Lodge. It is a property with groomed and well-marked trails used for running, hiking and cross-country skiing. They vary from "flat" (always a relative term in our sport), to rolling, to very steep. There was single-track that took you through fragrant, wildflower-filled meadows. There were wider trails that traveled through darker hollows that the sun hadn't quite touched yet that day. There was a sharp turn that suddenly brought winter—balsam, redolent and engaging every sense, inspiring you to pause, and breathe deeply.
There were hills, like a full 10k of them at the beginning of the race, albeit with a few flat sections that were a godsend for these already taxed lungs. Just because you're at the base of the highest mountain in Vermont, doesn't mean that you are scot-free, and it doesn't mean that there won't be nearly 2,500 feet of elevation. I mean, it wasn't like I didn't know there would be hills (and lots of them at that), but I conveniently forgot about just how many when signing up for my second attempt at the 25k. You know, like what they say about childbirth.
The views at various spots along the course were simple and spectacular: clean, rolling, mountaintop lines—kind of like what I imagine Bob Ross painting if he were out on the course—with a pale, blue, cloudless sky.
For the most part, the trails were not technical except for in a few muddy, rocky areas—and I know that I've already mentioned hills, but they deserve another shout-out. The hills were alive with the heavy sound of my labored breathing, and I certainly did not hear any music. I will never understand how there are those of use that prancing like the countless deer I almost ran into on the drive up, up hills without a second thought. Don't they look at them and immediately wish they were somewhere else, clicking their blistered heels like Dorothy? Or is that what they consider entertainment? I know, I can't talk because I signed up for the same torturous, slog-fest (although you will never, ever find me prancing effortlessly up hill after hill. NEVER.).
But we love it. We love it so much we keep coming back for more. For the hills, the almost sprained ankles, the busted toes—and the alpine forest aromas, the imagined and real encounters with local wildlife, and the brief effervescence felt when conquering one of many ascents. To be together again with people who love our sport, whether we're running, power hiking, or crawling up those interminable hills. Finally, we come to be part of something much larger than ourselves. This is what I find so inviting and intriguing about trail races whose details have been meticulously considered and tweaked, providing for a mentally and physically demanding task whose reward is in doing the work itself.