5 Doctor-Approved Tips For Running Safely In The Sun
Skin cancer is the most common form of cancer in the U.S. Avoid overexposure and sunburn with these tips for running in the sun.
Heading out the door? Read this article on the new Outside+ app available now on iOS devices for members! Download the app.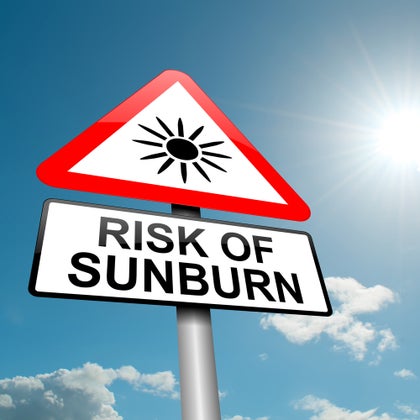 *Content Courtesy of Competitor.com
Sun-kissed runs are a welcome reward for months spent braving frosty elements or sweating it out indoors. But getting a bronze glow while on your daily jaunts can mean skin trouble down the road.
Skin cancer is the most common form of cancer in the U.S., with one in five Americans developing it over the course of their lifetime. Too much exposure leads to skin damage and too little leads to depleted vitamin D levels.
What's A Runner To Do?
"You don't want to be completely shut in, nor should you be out running at the brightest time of day — generally from 10 a.m. to 4 p.m.," said Dr. Eric Whitman, a board-certified general surgeon, skin cancer specialist and founding director of the Atlantic Melanoma Center in Morristown, N.J. "Extremes are what get you in trouble."
Long hours of sun exposure is common for runners training for half-marathons, marathons and ultra-distance races. Three-time U.S. Olympian Deena Kastor had an initial skin cancer wake-up call in 2001, when two skin biopsies tested positive as melanoma. She's since had numerous other biopsies despite wearing copious amounts of a broad-spectrum sunscreen on every run, as well as a cap, sunglasses and long-sleeve tech shirts while training.
When it comes to over-exposure, prevention is key. Once you have too much sun, you can soothe the burn, but you cannot undo the potential damage, Whitman said, and the damage won't be seen for five, 10 or even more years.
"How much sun is too much varies from person to person" he said. "When skin feels like it's getting burned, you've been out too long."
Doctor-Approved Tips
But managing training, work and family doesn't always mean you can choose when you want to run. For those heading out into the sun, follow these five doctor-approved tips to keep your skin healthy.
Wear sunscreen with an SPF of at least 30 every day; products with zinc, silica and titanium usually stand up well to sweat. Reapply as needed as you sweat and remember, you can still get UV exposure on a cloudy day.
Run early or later in the day, when the sun isn't directly overhead. You'll avoid the brightest rays and intense midday heat.
Wear a hat so your scalp doesn't get burned and put on some shades for even more facial protection.
Think twice before running shirtless. Instead wear a lightweight, breathable shirt (look for clothing made with UPF fabrics) and consider sun-protective sleeves for exposed arms. A white cotton T-shirt has a UPF factor of only 5-7. Wear clothing that is tightly woven and darker in color so less UV radiation reaches your skin.
Early detection is imperative for effective skin cancer treatment. Have your doctor check moles that have recently changed shape or are oozing, skin lesions that won't heal, or new growths.
Monitor The Weather
Plus, like everything else in this world, there's an app for that.
While it's no replacement for good judgment, common sense and copious amounts of sunscreen, the SPF app will get you thinking about your time in the sun. Enter your skin type and sunscreen SPF (yes, you still have to apply it and it should be at least SPF 30), let the phone download your location and you get a handy countdown timer with the amount of time you can spend in the sun without damaging your skin. Also, the UVmeter-Check Your UV Index (0.99) is another app that gives you location specific UV Index information by Wunderground.com with recommendations for sunblock, advice on sunburn time and suggestions for protection.
For more sun protection tips, go to OutRunTheSun.org, an Indianapolis-based non-profit organization dedicated to building awareness of melanoma and other skin cancers.