5 Tips For Running A Race With Friends
Racing with friends can be fun—if you all have the same expectations.
Heading out the door? Read this article on the new Outside+ app available now on iOS devices for members! Download the app.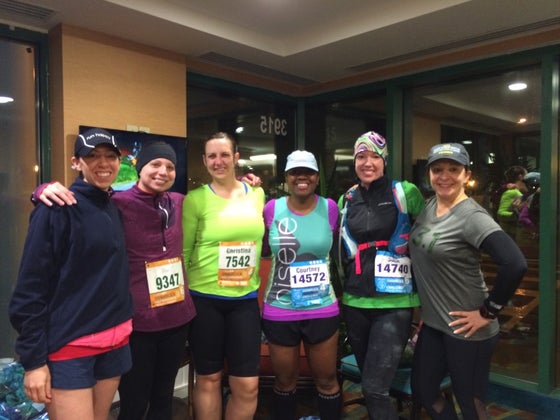 This past weekend, I ran the Cherry Blossom Ten-Miler side-by-side with one of my running friends. We started the race together (along with another friend) but I never expect to actually stick with folks, especially in a crowded race. However, we ran the whole thing together—something I hadn't done in awhile. It was really fun and reminded me how much I enjoy not just running, but running races with friends. I also thought of some tips I'd share on how to best race with friends (so that you are still friends after the race).
Communicate expectations BEFORE the race begins.
This is my number-one tip for racing with friends. The easiest way to make a running buddy mad is to all of a sudden drop her during mile 3 of a half marathon you vowed to run together. Talk through your goals and make sure you all agree what you will do if it turns out one of you wants to pick up the pace and the other doesn't. There is no right answer here, but the point is that you should discuss it with your friends before the race. For me, I'm generally of the mindset that I will start with my friends but everyone should run their own race. That's not to say that I won't stick with a friend, but if I have a goal race, I want to be free to chase that goal. On the other hand, if it's just a race for fun, I don't really care about pace. Establishing expectations before the gun goes off is key.
Pick a meeting spot post race.
Even if you plan to run together, sometimes you can get separated, so it makes good sense to pick a meeting spot post race so you can quickly find each other after the race.
Discuss your race strategy.
Again, this goes along with communicating expectations but I thought it was worth being a bit more specific.
Talk about how the race will go.
Will you walk through water stops? Will you talk while running? You may be totally in sync with someone during long, slow training runs but then discover that during races, they turn into a different runner. Have this conversation so that there are no surprises or hurt feelings on race day.
Plan your post race plans.
Will you go to brunch? Will you just go home? It can be disappointing if one person wants to go party it up but the rest of the gang was planning on heading home. Talk it out beforehand.
All of these tips can essentially be boiled down to communicating with your friends before the race begins. Having one simple conversation about these things will help you to love racing with friends as much as I do!
Related:
How To Successfully Race With Your Significant Other
18 Ways To Trick Your Friends Into Running With You