The Steepest Halloween 5K In The U.S. Takes Place On Saturday
"Hell on Hills" is the steepest Halloween-themed 5K around–it even features the steepest road in the U.S.
Heading out the door? Read this article on the new Outside+ app available now on iOS devices for members! Download the app.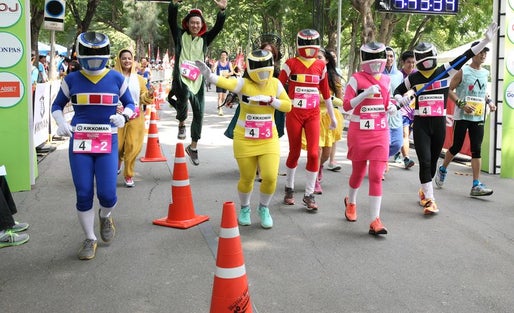 Hell On Hills
The name for a Halloween-themed race with a ton of incline can't get much better than "Hell on Hills." Lucky for runners (is luck the right word?), this race exists–and it sure sounds tough. For the second year in a row, an estimated 200 runners will participate in a 5K that winds along roads with some of the sharpest inclines in Pittsburgh, Pa. (including the second steepest road in the world). The race itself actually starts with Canton Avenue, the road with the steepest incline officially recorded in the entire U.S.
Scheduled to begin tomorrow at 8 a.m., locals who love dressing up for races will be psyched to participate in this holiday race–even if it is significantly more difficult than traditional Halloween runs. After climbing the first 20 percent incline of Canton Avenue, participants will jog, walk or zombie-crawl four additional hills and, fittingly, will pass through a cemetery, as well.
Race organizers have already expressed interest in continuing the tradition with a third annual Hell on Hills in 2018. In the meantime, Pittsburgh-based runners interested in participating can still register for this year's race. For those that call other cities home, we've rounded up a list of five other Halloween-themed races taking place this weekend.
Related: 11 Numbers To Know About Running And Halloween
2017 Halloween Races
Related:
Last-Minute Race Costume Ideas–Just In Time For Halloween
Embrace The Health Benefits Of Pumpkin This Season
It's Almost Halloween, So You Have To Make This Candy Corn Smoothie