Why I Can't Wait To Spectate The Boston Marathon
See why one runner can't wait to help runners give their all on course.
Heading out the door? Read this article on the new Outside+ app available now on iOS devices for members! Download the app.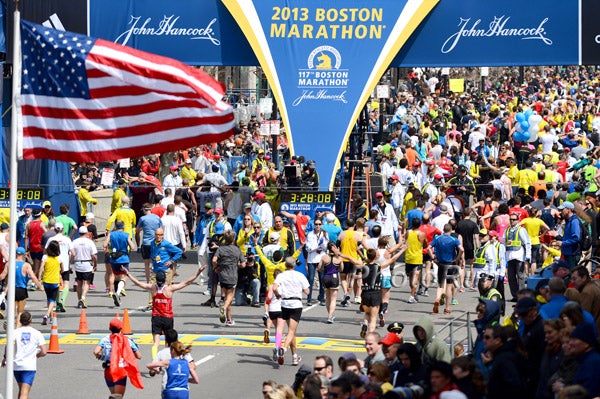 As I write this, I'm preparing for a trip to Boston where one of the highlights will be spectating the marathon on Monday. I've watched the Boston Marathon on my computer for the past few years and have always wanted to be able to spectate in person. This year, I'm finally able to do that and am so excited. Here's why:
Spectating ANY marathon is an incredible experience. I love spectating and cheering on competitors. There's something so special about watching folks give it everything they have. A marathon is such an emotional roller coaster and I love cheering on folks as they work it out over the course of 26.2 miles. As someone who doesn't listen to music when I run or race, I feed off the crowd and am always so grateful for spectators. Being able to pay it forward and cheer on racers is something that I take great joy in.
It's a chance to preview a pipe dream. I am probably not going to qualify to run Boston for a very long time (if ever). I'm totally cool with that—I'm simply more of a middle of the pack runner and that's okay. However, I like to dream big and running Boston would be a total dream. Getting to experience a bit of that through spectating and being in Boston for the marathon is going to be an amazingly inspiring experience!
It's BOSTON, y'all. This is THE race and to get to experience it firsthand is an amazing opportunity. I'm going to be taking in everything—the expo, the finish line, the crowds, the runners, the love and pride that folks in Boston take in this race and the incredible athleticism—and I can.not.wait.
Have you spectated at Boston? Any tips for me? Don't forget to share if you'll be there! Tweet me at @EatPrayRunDC.
Read More:
13 Tips For The Best Boston Marathon Ever
Coach Tips For First-Time Boston Marathon Runners