Should You Run Before You Lift?
Let's cut through the myths and misconceptions and give you the answers you need to build your best body!
Heading out the door? Read this article on the new Outside+ app available now on iOS devices for members! Download the app.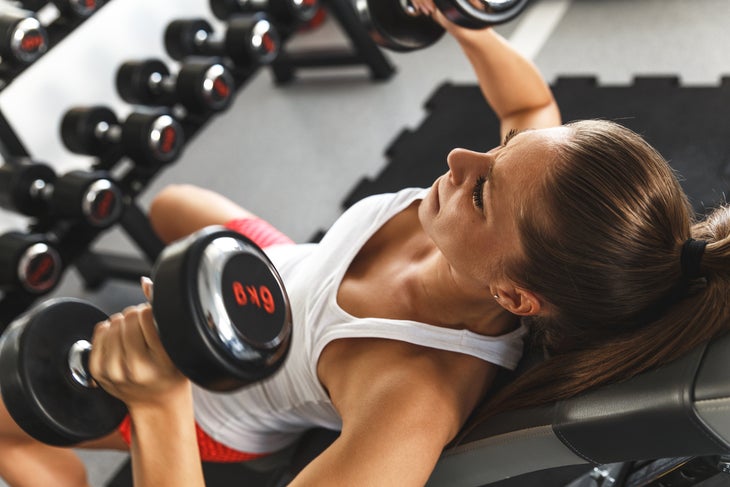 *Courtesy of POPSUGAR Fitness
If you ask 100 people if you should do cardio before or after strength training, chances are that you'll get an even split of answers. The surprising part of each answer, however, is that you'll get about 100 different reasons why you should or shouldn't do cardio first. Let's cut through the myths and misconceptions and give you the answers you need to build your best body!
A recent study published in the Journal of Strength and Conditioning Research discovered something very shocking: it doesn't really make a difference if you do cardio before or after training. Whether you're lifting weights or getting sweaty on a cardio machine, the same hormones spike. Also, you won't really notice much of a difference in your performance either way.
Even though the study was rather clear about the findings, opinions still vary. According to fitness coach Anthony J. Yeung, CSCS, "It's always better to do your strength training before cardio because you want to do your heavier stuff when your body is fresh. If you did it the other way, your body would get tired so you wouldn't be able to lift as much weight and your technique would worsen."
Diana Chaloux, CPT and owner of the online personal training website HitchFit.com, indicates that, "If your goal is fat loss, the ideal situation would be to perform strength training first, followed by cardiovascular training." She explains that "when you strength train, your body utilizes glycogen (which is stored carbohydrates) for fuel, so if you strength train first, and then do cardio immediately after (which prefers fat for fuel for lower intensity cardio), you would create an environment in your body conducive to fat metabolism."
What about morning cardio, you may ask? Well, research published by the British Journal of Nutrition found that people can burn up to 20 percent more body fat by running in the morning on an empty stomach. What does this mean for you? Some experts advise breaking up your training efforts to do cardio in the morning on an empty stomach and then weights later on in the day with a pre-workout protein-based snack.
What does this mean for you? You've got options — and there's never anything wrong with that! Our advice? If you can split your training efforts into two separate workouts, hit the gym on an empty stomach in the morning and do your cardio (and lift weights later in the day in a different session). If you can't go to the gym twice in one day, make the most of your single session by hitting the weights first then doing your cardio. This way you can do the heavy stuff when you are at your optimum energy levels.
Related Articles
An 8-Week Plan to Make You a Runner
If People Talked About Gardening and Baking Like They Talk About Running
Lift, Shape, and Tone Your Butt With This 10-Minute Workout
The Protein Snack You Need After a Workout — Only 47 Calories
4 New Year's Food Resolutions You'll Actually Keep