Running Safety Tips That Can Save Your Life
Stay alert and responsible with these on-the-run tips.
Heading out the door? Read this article on the new Outside+ app available now on iOS devices for members! Download the app.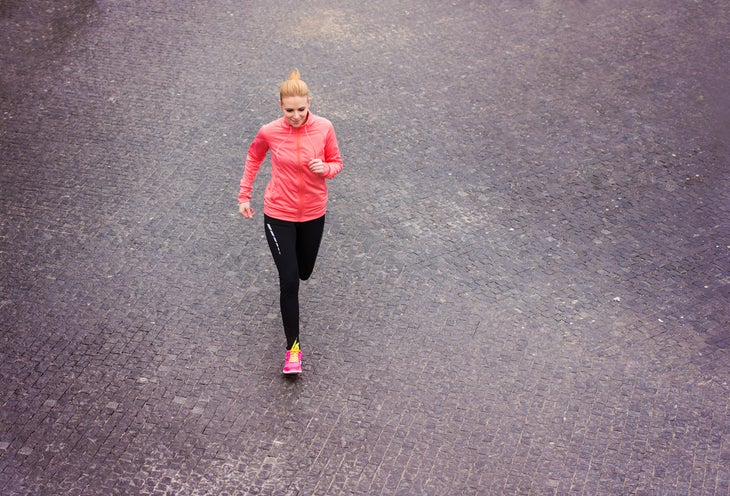 Here are a few running rules that could save your life.
WEAR BRIGHT COLORS.
Neons apparel isn't just for the fashion factor. Bold colors can be seem more easily by cars. Many of these bright tees and shorts have reflective details added in to ensure another level of protection.
STICK TO DAYLIGHT HOURS.
Running while the sun is out is an easy way to ensure you will be seen and stay safe. If this isn't always possible, consider investing in reflective gear, such as a vest or blinking light.
ALWAYS CARRY A FORM OF ID.
If you don't have any pockets, Ciccone recommends writing your name, blood type and emergency contact on the inside sole of your running shoe. In your phone, make sure you have an ICE ("in case of emergency") contact listed too.
TEXT SOMEONE YOUR PLAN.
Whether it's a bestie or your partner, give someone close to you the heads up where you're going and when you'll be back.
DON'T PUMP UP THE VOLUME.
When running with headphones, keep the sound at a low enough level where you can hear your own feet hitting the ground. This way you can clearly be alerted to car horns, cyclists and others coming up behind you. Better yet—leave the headphones at home.
ASSUME YOU'RE INVISIBLE.
Unless you make eye contact with a driver, they do not see you. Bright clothes, reflective tapes and vests help, especially when running at night, but still don't guarantee you'll catch an eye. Always stay on high alert, even on sidewalks where cars are pulling out of driveways and side streets.
DON'T RACE WITH CARS.
If you and a car are both approaching the same intersection, stop and let the car go first. News flash: It's faster than you.