Runner Etiquette: Canine Running Partners and Responding to Catcalls
Also: when can you call yourself a runner?
Heading out the door? Read this article on the new Outside+ app available now on iOS devices for members! Download the app.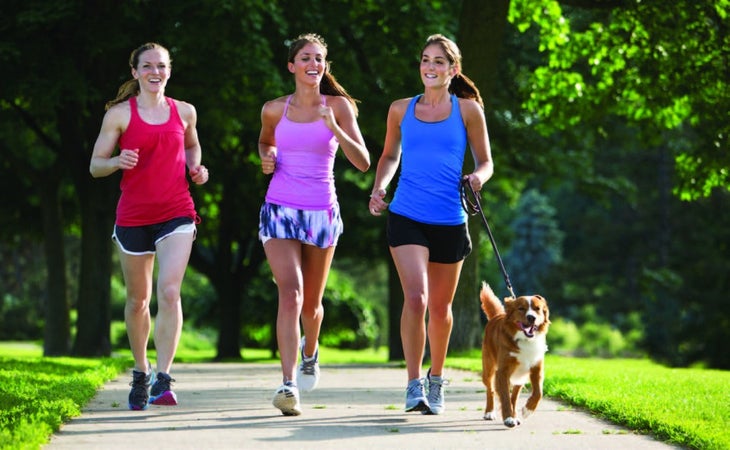 Etiquette expert Lizzie Post, great-great granddaughter of Emily Post, knows a thing or two about the rules of the road—and the descendant of the famous decorum diva is a runner too!
Q: I hate it when my friend brings her dog on our group runs. Well-behaved he is not! She's super sensitive about him. How can I ask her to leave the puppy at home?
I run with my dog every time I run—it's good for both him and me. However, my dog knows it's his job to keep moving, and he doesn't engage with other dogs, runners, bikers, squirrels or baby carriages. In other words, he's well-behaved and I can trust him on a run with me.
I'm glad you recognize that your friend is sensitive about him. Us dog owners tend to be very protective of our pets. I think you need to recognize she may be trying to train him up so that he's better behaved on runs—but that these group runs might not be the place to be practicing this training. I would also make sure that the whole group feels that the pup should not be on these runs before approaching her.
If that's the case try something like, "Hey Jenn, I know you're working on training Rover to run with you, but it seems like he's not ready yet for the group runs. In the future it's definitely a possibility, but for now, it would be best for us to run without him." Be ready with some suggestions too, so she doesn't feel alienated. Perhaps be willing to go on a run or two with her and her dog, or offer to dog sit so she still has an opportunity to run with the group.
Related: Should Runners Wear High Heels?
Q: What's the right way to respond (or not) to a catcall?
This is entirely up to you and your comfort level with confrontation and how you feel about catcalls in the first place. Some women consider them incredibly inappropriate and crossing into harassment territory. Other women feel they are a harmless, if not juvenile, compliment.
Plus, every catcall is different. You might find one easy to ignore but another might cause you to engage. Either way, you must always remember your own safety first. There are times when it's worth it to say, "Hey, I don't appreciate that comment" and then move along with your run. Other times engaging the catcaller could result in a more uncomfortable, or even dangerous, situation.
Personally, I tend to just ignore them. I'm on a run, I'm moving fast and I'm not willing to risk the potential escalation of the situation.
Related: 2 Weeks To Thanksgiving: Your Shape-Up Plan
Q: How much do I have to run to call myself a "runner"?
I think it doesn't matter if you run every day, if you do a run/walk combo, or if you run occasionally. If you love it, you're a runner!
Have a question for Lizzie? Email editorial@womensrunnning.com or tweet @womensrunning with the hashtag #ProperForm.