This Is Why I Run Six Days Every Week
It all started when this runner changed training plans.
Heading out the door? Read this article on the new Outside+ app available now on iOS devices for members! Download the app.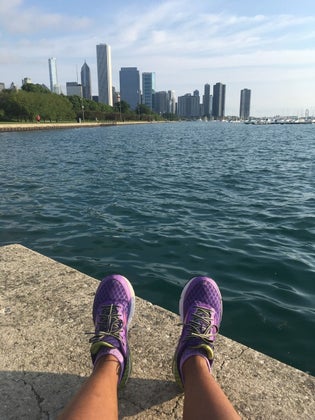 People are often shocked when I tell them I run 6 days a week. Honestly, if I would've told myself a year or two ago that I'd be running 6 days a week, I would not have believed me. I never EVER thought I could be someone who runs most days of the week and since I started running long distances, I always ran 3-4 days a week, MAX. I even trained for a marathon using the Run Less, Run Faster Method, which prescribes 3 days of running a week. But as I kept reading about different training methods, I kept seeing references to this Hanson Method plan.
RELATED: The Hansons Method Training Plan: A Review
Let me preface this by saying that I think the best plan for you is such an individualized process. However, I know when I was considering this training plan, I was eager to hear from middle of the pack runners like me so I thought sharing my experience might be helpful.
The plan essentially builds you up to six days a week of running. It is hard and based on the concept of cumulative fatigue. Basically you get used to running on tired legs (which is helpful because you have tired legs during the last half of a marathon) and you never really feel fresh (until after you taper for your race).
RELATED: Gear—Pamper Tired Muscles!
I ran 6 days a week when training for the Shamrock Half over the winter/early spring and am currently running 6 days a week while training for the Chicago Marathon. It's not for everyone but a few of the reasons I do so (outside of the fact that my plan tells me to).
I can build mileage without stress. This may sound counterintuitive but running 6 days a week means that it's easy to build mileage just by adding a few miles on my easy days. And speaking of easy days…
Of my 6 runs, 3 are easy. This is actually critical. Running so many days a week means I have the ability to spend half of my running time running easy—since I love running with friends and being social and having fun on runs (see my Instagram posts for evidence of this), my easy runs are some of my favorite each week.
Mental strength. When you run 6 days a week, inevitably there are going to be hard runs. The weather will be bad some days. You'll be tired (if you are me, you'll be tired often). You will just have an "off" day. But—you lace up and you head out anyway and you are stronger because of it. I hope to tap into this mental strength on race day!
Running 6 days a week is definitely not for everyone. But I've discovered that it works for me and I encourage you to consider if running more might be beneficial for your training.
How many days do you run a week?