How Do City Runners Train For Marathons?
A city runner shares her tips for marathon training on the busy streets of New York.
Heading out the door? Read this article on the new Outside+ app available now on iOS devices for members! Download the app.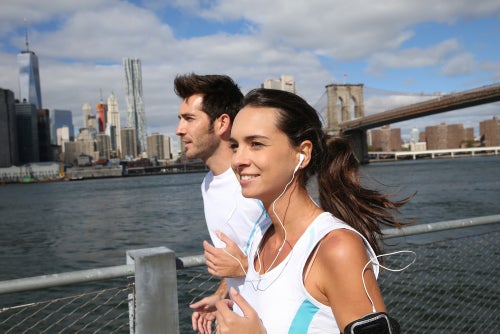 This time last year, I had just begun training for the TCS New York City Marathon. As a lifelong New Yorker, I've always experienced the marathon as a spectator, but I never dreamed of being a participant. But after running nine races and volunteering at one the year prior, I received guaranteed entry into the 2017 race. I couldn't turn down the chance to run this iconic marathon! So I started training, and I immediately ran (pun intended) into a problem: how does one train to run 26.2 miles on an island that is 13 miles long and littered with stop lights? It required making some adjustments to my normal routine, but I eventually came up with a game plan that can be applied to any bustling city runner.
Related: 3 Tips For Safer Running In A Major Metro Area
Map Your Route
Runners all over the country probably map out their longer running routes, but it's a necessity when you're living in a city. Since everything is really close together in major cities, there's a good chance that you will run to a destination that's only two miles away and think, Now what? Instead, spend a few minutes on Google Maps and invent a route. One of my favorite things to do is pick a landmark, see how far away it is and figure out a route there that meets my mileage goals.
Make Bridges Work For You
Since the island of Manhattan is only 13 miles, most of my long runs include running over bridges. Part of that sucked because…well, bridges. But the great thing was that the bridges forced me to do hill workouts. This worked in my favor, since the NYC Marathon includes multiple bridges. If your city has a bridge with a pedestrian walkway, use it to train your legs for the hills and to see some of the beautiful sights along the way.
"Run" Errands
One day, the battery on my iPhone died and I needed to take it in for a repair—stat. But I also had a run planned for that evening. Instead of sacrificing my run, I put on my running belt and hydration pack and ran the 8-mile round-trip to and from the Apple store. Most places are relatively close together in a major city, so the time it took me to run there and back was comparable to the amount of time I would've spent on the subway. After that, I was hooked and started "running" all of my errands.
Use Tracks For Speed Workouts
I love New York City, but it really tests my patience sometimes. Waiting at stoplights, weaving around people and watching for cars and bikes makes running on the street nearly impossible. That's why I spend at least one day each week at a local track. It's the perfect place to do speed work, and it's designed just for runners.
Join A Running Group
No matter where you live, there aren't many things better than running with friends. Since cities are loaded with people, it's easy to find local running groups. New York City has tons, from those comprised of people that want to run and socialize at a local bar afterwards to those occupied by competitive runners. Either way, being part of a local group that understands your city running pains will make your marathon training more enjoyable.
Wear Bright Clothes At Night
I'm a nighttime runner, so it's often dark when I hit the streets. In New York, the streets are lined with lights and there are always people out–but there are also tons of insanely aggressive drivers and there exists a strong impulse to jaywalk. In other words, your chances of getting hit by a car are much higher in a city. That's why I always make sure I wear brightly colored clothing. Many popular running brands now have reflective clothing, as well.
Related:
The Absolute Best City To Run In Is…
5 Reasons Running Is The Best Way To See A New City