The Best Time To Return To Running After A Marathon
Everyone's timeline is different–but these tips can help you decide what the best time is for you.
Heading out the door? Read this article on the new Outside+ app available now on iOS devices for members! Download the app.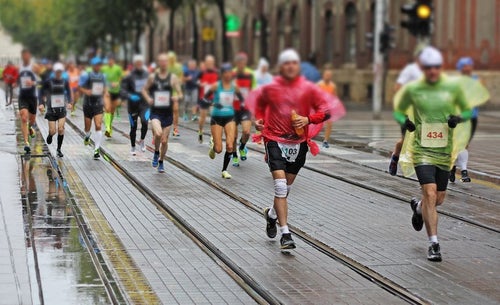 NCAA runner turned high school coach Hillary Kigar has an answer for all things training–especially for those who have a marathon in their sights and are wondering about that post-race return to training.
How do I know when I'm ready to start running again after a marathon? 
First check if you are still sore or experiencing any lingering pain from the race or from any injuries that may have occurred during your training. If so, continue to take time to rest and use this opportunity to get in some non-running activities such as yoga, biking, climbing, swimming or other cross-training activities that you don't have time to do while you're deep in marathon training. This is also a great opportunity to get a sports massage to help work out any kinks, knots or residual tightness from the race. Even if you are feeling healthy and fully recovered, it's good to take at least one week completely off from running to allow your body to recover from the stress of the race. The other important factor is if you are feeling mentally ready to get back into training. Before you start another long training cycle, you want to feel so eager and excited that you are almost antsy and itchy. Starting back on the right foot physically and mentally is the name of the game!
Related:
Should You Take Time Off After A Marathon Or Keep Running?
Post-Marathon Tips From A Running Coach