An 8-Week Training Plan to Help You Run Your Fastest Mile Ever
To get fast, you have to run fast.
Heading out the door? Read this article on the new Outside+ app available now on iOS devices for members! Download the app.
If you want to run a faster mile, you have to train for it. Mile training is similar to 5K training, but it's even faster. "You're adding in more strides and more reps of shorter intervals here," says coach and Olympic Trials finalist Rebeka Stowe. The reason is simple: To get fast, you have to run fast. Meanwhile, the longer efforts and easy runs help keep that aerobic engine revving, so you can focus on building speed and power. Remember: You need at least six to eight weeks minimum for a base, plus two to four weeks of strides, before tackling this speed-based training plan.
Run a Faster Mile Training Plan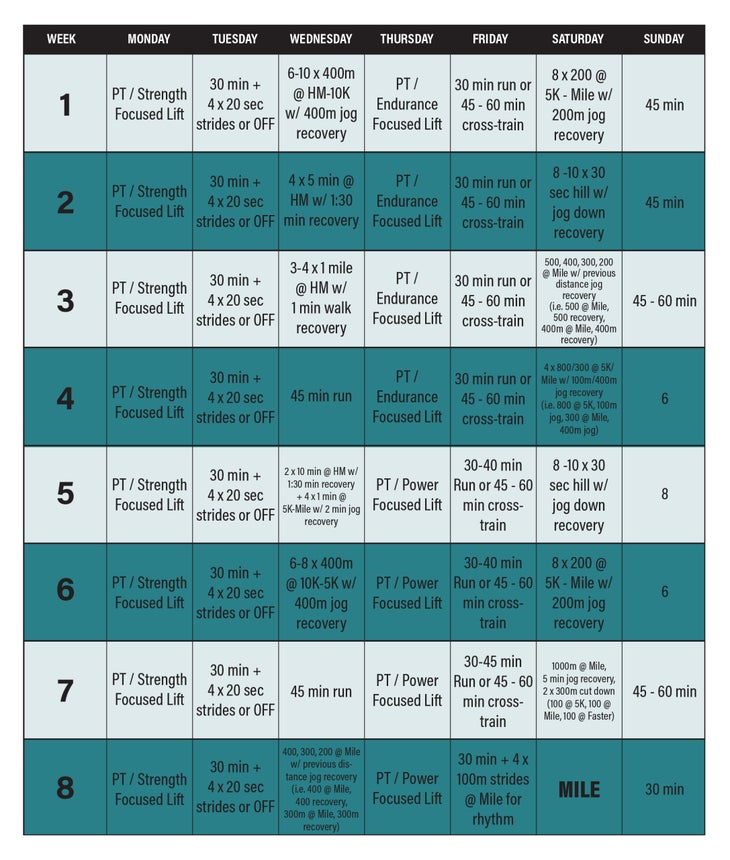 | | | | | | | |
| --- | --- | --- | --- | --- | --- | --- |
| Monday | Tuesday | Wednesday | Thursday | Friday | Saturday | Sunday |
| PT / Strength Focused Lift | 30 min + 4 x 20 sec strides or OFF | 6-10 x 400m @ HM-10K [half marathon to 10K pace] w/ 400m jog recovery | PT / Endurance Focused Lift | 30 min run or 45 - 60 min cross-train | 8 x 200 @ 5K - Mile w/ 200m jog recovery | 45 min run |
| PT / Strength Focused Lift | 30 min + 4 x 20 sec strides or OFF | 4 x 5 min @ HM w/ 1:30 min recovery | PT / Endurance Focused Lift | 30 min run or 45 - 60 min cross-train | 8 -10 x 30 sec hill w/ jog down recovery | 45 min run |
| PT / Strength Focused Lift | 30 min + 4 x 20 sec strides or OFF | 3-4 x 1 mile @ HM w/ 1 min walk recovery | PT / Endurance Focused Lift | 30 min run or 45 - 60 min cross-train | 500m, 400m, 300m, 200m @ Mile w/ previous distance jog recovery (i.e. 500m @ Mile, 500m recovery, 400m @ Mile, 400m recovery) | 45 min - 60 min run |
| PT / Strength Focused Lift | 30 min + 4 x 20 sec strides or OFF | 45 min run | PT / Endurance Focused Lift | 30 min run or 45 - 60 min cross-train | 4 x 800m/300m @ 5K/Mile w/ 100m/400m jog recovery (i.e. 800m @ 5K, 100m jog, 300m @ Mile, 400m jog) | 6 miles |
| PT / Strength Focused Lift | 30 min + 4 x 20 sec strides or OFF | 2 x 10 min @ HM w/ 1:30 min recovery + 4 x 1 min @ 5K-Mile w/ 2 min jog recovery | PT / Endurance Focused Lift | 30 min run or 45 - 60 min cross-train | 8 -10 x 30 sec hill w/ jog down recovery | 8 miles |
| PT / Strength Focused Lift | 30 min + 4 x 20 sec strides or OFF | 6-8 x 400m @ 10K-5K w/ 400m jog recovery | PT / Endurance Focused Lift | 30 min run or 45 - 60 min cross-train | 8 x 200 @ 5K-Mile w/ 200m jog recovery | 6 miles |
| PT / Strength Focused Lift | 30 min + 4 x 20 sec strides or OFF | 45 min run | PT / Endurance Focused Lift | 30 min run or 45 - 60 min cross-train | 1000m @ Mile, 5 min jog recovery, 2 x 300m cut down (100m @ 5K, 100m @ Mile, 100m @ Faster) | 45 - 60 min run |
| PT / Strength Focused Lift | 30 min + 4 x 20 sec strides or OFF | 400m, 300m, 200m @ Mile w/ previous distance jog recovery (i.e. 400m @ Mile, 400m recovery, 300m @ Mile, 300m recovery) | PT / Endurance Focused Lift | 30 min + 4 x 100m strides @ Mile for rhythm | Mile | 30 min run |